January 7, 2019
|
Fashion

,

Jobs

,
Overpaid – But They Got the State of Fashion 2019
The Rockstars of Consulting
I am a regular reader of the BOF (The Business of Fashion) and appreciate, among other things, their annual report about the present and future of fashion. I also admit I have a bit of a prejudice about McKinsey consulting (who write the report every year) and believe they are a classic case of star company whose stardom sometimes makes me smile.
Maybe I met too many of these white, 40+ successful (i.e. very well paid, or overpaid) men who didn't fully convince me.
By now I think that some of them created a jargon and aura of mystery and holiness which is very useful to conserve their privileges, and isn't justified anymore, in 2019.
But that's another subject and I am making a too long introduction.
I am actually happy that the state of fashion is studied by a "star" company: at least, its importance is recognised.
So here are the main trends explained in the report.
10 Trends in Fashion
I change the order of trends and start from what I personally find most interesting. Then I shortly resume them. If you want to read the whole report about the State of Fashion, just click on this hyperlink.
1. The End of Ownership
Fashion players will increasingly tap into this market to gain access to new consumers seeking both affordability and a move away from the permanent ownership of clothing.
The recent  (huge) success of Rent the Runaway is one example of how the lifespan of the fashion product is becoming more elastic as pre-owned, refurbished, repair and rental business models continue to evolve.
In the BOF interview Jennifer Hyman, CEO of Rent the Runaway, explains how their rental service is also useful to familiarise people with brands and make them desiderable.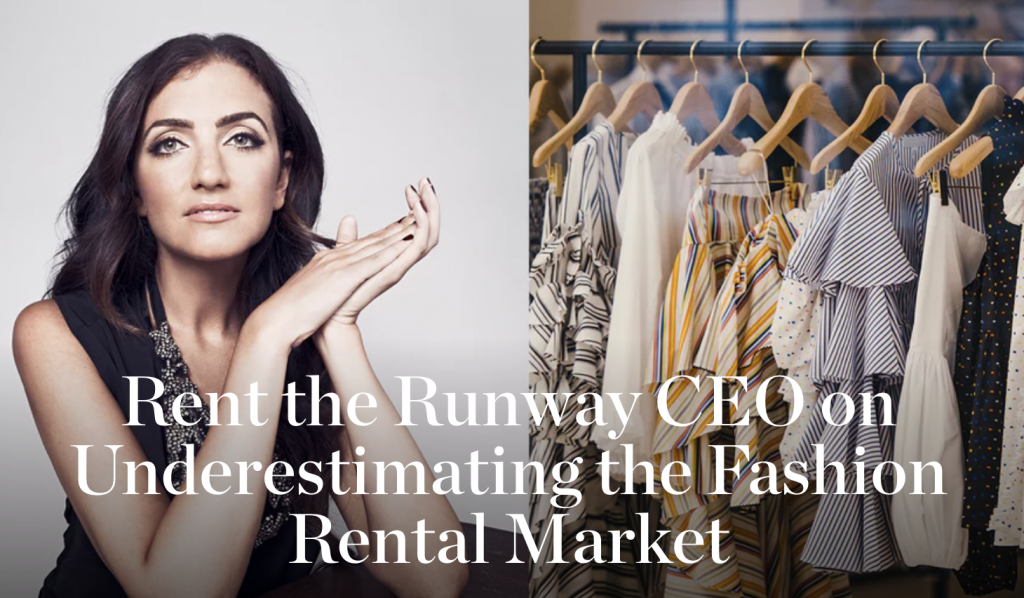 2. See it and Buy It
In the mobile consumer journey, the gap between discovery and purchase has become a pain-point for a more impatient fashion consumer, who seeks to purchase exactly the products they discover, immediately. Players will focus on bridging this gap through shorter lead times, improved availability of advertised products and new technologies such as visual search.
3. Data/Privacy
After years of having personal data owned and handled by businesses, a more distrusting consumer now expects companies to reciprocate with radical transparency and sharing of information.
4. On Demand
Mass players will begin to experiment next, responding more rapidly to trends and consumer demands, achieving just-intime production and reducing overstock and making short, small-batch production cycles the new norm.
5. India
India becomes a focal point for the fashion industry as its middle class consumer base grows and manufacturing sector strengthens.
6. Social and Environmental
Consumers from some, but not all markets will reward players that take a strong stance on social and environmental issues.
7. Self-Disrupt
Traditional brands are beginning to disrupt their own business models, image and offering in response to a new breed of small emerging brands that are accelerating thanks to decreasing brand loyalty and a growing appetite for newness.
8. E-Commerce
As the race to be the platform of choice for both customers and brands intensifies, e-commerce players will continue to innovate by adding profitable value added services.
9. Changes in Trade
62% of survey respondents that believe changes in trade policy will pose potential risks to global economic growth.
10. Caution Ahead
Firms seem concerned: with the possibility of a global economic slowdown by 2020, companies will turn more prudent and start to look more aggressively into opportunities to boost productivity compared to previous years.