May 20, 2023
|
Travel, Antarctica

,
The Captain of the Ice – And How To Become One
Would you dare navigating in polar waters? And would you want to be a captain? How do you become one?
These are some of the questions I was curious to ask Gianmaria Billeri, the young Italian captain – or, to be entirely correct, chief officer – I met during my cruise to Antarctica,  to run Antarctica Marathon on the Ocean Victory cruise ship.
He is 31 years old and not what I expected  – especially after hearing he comes from a small village in Tuscany, where the weather is mild all year round. So I decided to ask him some questions, starting from how it is working in polar waters.
Photos: Gianmaria Billeri
Gianmaria, you're doing something not many can do: ice navigation. What are the main difficulties?
It's different and really riskier. You need to keep as much distance as possible from the ice because of what may be under the surface – 90% of the volume is there. The problem is not the big icebergs. Those are visible and, in case of zero visibility, are tracked by radars. What is difficult are the growlers, smaller glacial masses less than 4 meters high. Growlers are unstable, can move and flip over, and are very difficult to detect in the dark.
So how do you make sure you see them?
Constantly checking. Our best friend is good old binoculars (I have my own) and also during the night or low light hours we use searchlights – a bit like car headlights – and examine every reflection of light . The double check between technology with tools and old seafaring school is always the best choice. Technology makes our work more comfortable, but it is not enough, especially in Antarctica. There's always a sailor with me to check ahead. Ultimately, it is always people who analyze situations and make decisions.
I thought navigation was almost entirely done by technology, in 2023?
No, especially in polar waters. At high latitudes devices are less accurate. A sonar for the detection of submerged objects such as ice in our case cannot be used at high speeds. Nautical charts are less accurate – there is less information overall.
Our cruise was the last of the season and I was told that a week later many areas would be completely frozen over. Can a cruise ship get stuck?
In theory it can, but it's very unlikely, because it really depends on where you go and the high concentration of ice. We sail in the Antarctic Peninsula, relatively close to Argentina, from November to March (summer season) and being a cruise ship we carefully plan the itineraries, so that they have the highest safety standards for our guests on board.
Have you ever been afraid of the weather?
I've never been scared. But I was always amazed!
In what sense?
Well, I saw weather conditions that I had never imagined, and that I had not seen even in a fantasy film with waves higher than the ship itself and winds without respite.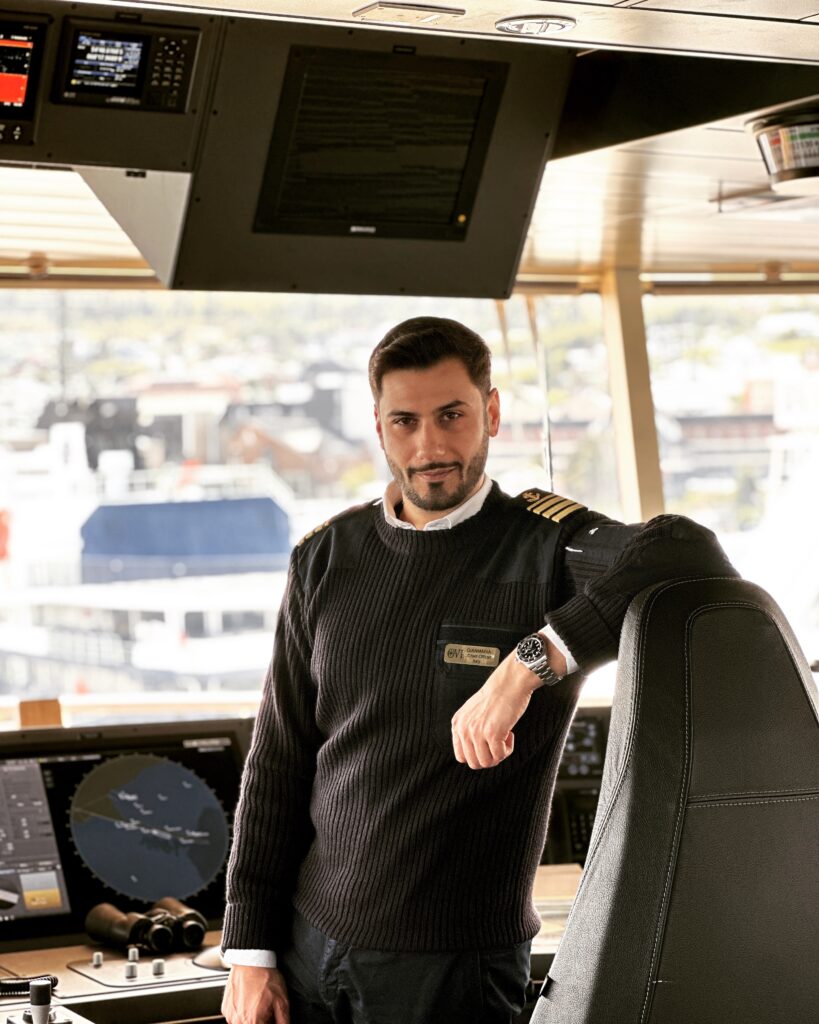 Is Drake Passage as dangerous as they say?
Yes, Drake Passage is considered one of the most dangerous voyages for ships. Circumpolar currents at its latitude meet no resistance from any landmass and waves exceed 12m, hence its reputation as the mightiest convergence of the seas.
If there's a problem, how long does it take for a rescue team to get to Antarctica?
This is another big difference from "normal" cruises: in remote areas, it takes an average of 5 days for a crew to reach you. That's why we have a doctor on board, for example.
And with seasickness?
It's a very personal thing and I've met people who have been doing this job for many years and still sometimes feel bad. However, a cruise ship like the Ocean Victory is quite comfortable. There are two main motions on a ship: pitch and roll. Pitch is the rising and falling of the bow and stern, which cannot be avoided, but is also relatively well tolerated by the human body. Roll is lateral movement that can make you sick, but it can also be minimized with the stabilizer fins we have on the ship. Furthermore, the ship is built with the inverted X Bow design, used on a large scale on offshore vessels and inspired by the shapes of the large marine mammals that ply the waters. Compared to old cruises, we have excellent seaworthiness which allows us, despite the size, to face worldwide navigations without problems.
What is the longest time you have been on a ship without returning home?
8 months. But it depends on the contract; I'm normally away for 4 to 5 months.
How did you come up with the idea of pursuing such a career?
I come from San Vincenzo, a small seaside town in Tuscany, Italy. I've always had a close relationship with the sea because my father was first a sailor and then a professional fisherman. I was already on boats as a child. I was fascinated by nature and wanted to do something that many other people didn't do. I guess it's because of the strong bond with my father that I went to the Nautical Technical Institute Istituto Cappellini Livorno. This was the start.
How long does it take to study to achieve your position?
After high school you can access the Naval Academy, which lasts 3 years and alternates semesters of study and navigation. I didn't attend one, so I found my first job by myself and continued to study by attending different courses. I was faster because I was always working.
When you have enough of training courses that months of seafaring, you can apply for an exam to become a watch officer and first mate.
What was your first job?
I started working on ferries, which are the most common means of sea transport in my region. I have also worked on container ships and for the launch of mega yachts in prestigious shipyards.
What do you find easy in your job?
I would say that I like dealing with people, working in a team and understanding what a certain company needs. Of course I need some time to see all the implications of the job and get into its daily routine, but once I'm in it I can really get to the point of running a full ship.
If a young man wants to become a chief officer like you, what skills and personality traits will he need?
This person should first of all be competent in English, should obviously have the necessary experience or be prepared to obtain it, be good at multitasking and be quite proactive, able to anticipate problems and, ultimately, be intelligent.
Imagine having a son, and one day he tells you that he wishes he had your career. How would you react?
It would be his own life and I would respect his decision. If he was determined enough, I'd encourage him to start it, to see if it's really for him. In Tuscany we have a say: remorse is better than regret.
On the Ocean Victory we were about 200 passengers, and in a sense you had our life in your hands… or am I exaggerating in saying this?
No, it's true. I've had people's lives in my hands since I was 20 and by now let's say I've gotten used to it a bit! And the whole crew is there too, about 150 people. This is what makes work so interesting and teamwork so important. And what makes me so passionate about this profession.