June 26, 2022
|
Travel, Lifestyle

,

Vevey

,
Escapade on The Swiss Riviera – Grand Hotel du Lac Vevey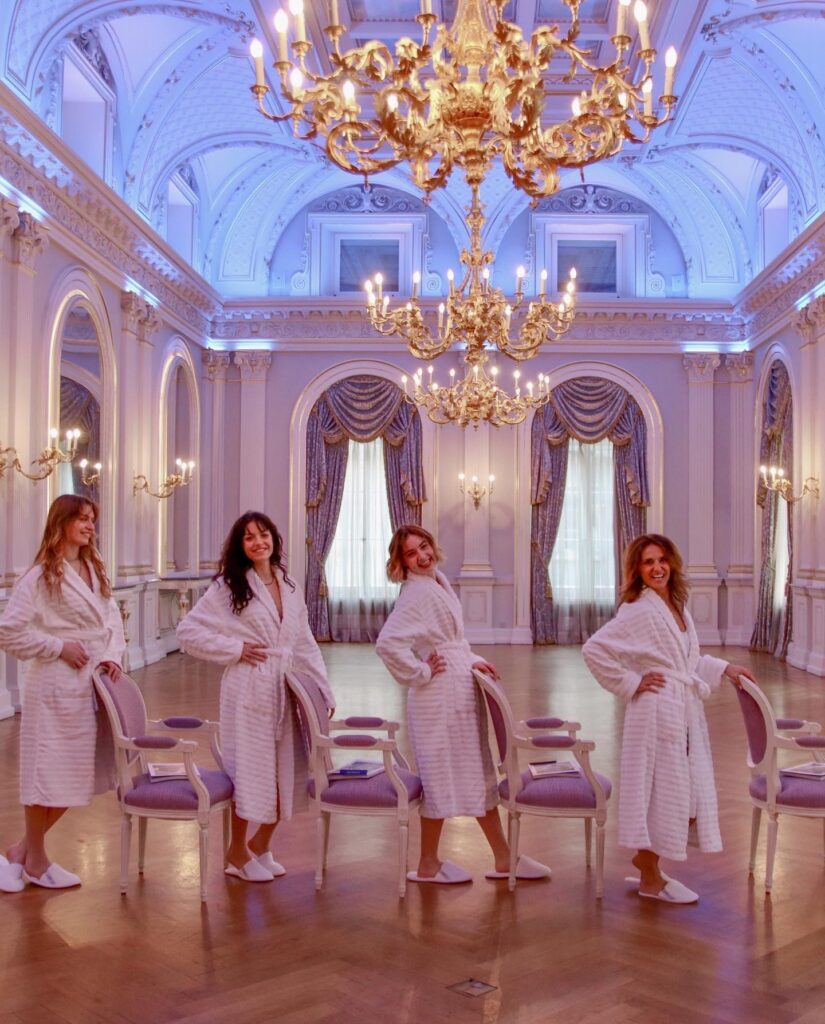 Mummy, is that lady in bathrobe and towel turban the mother of the richest man in the world?
One of my daughters asked me while we more or less tiptoed into the Grand Hotel du Lac Spa, trying not to be too obvious with our espionage. I caught a glimpse of the beautiful lady disappearing into the sauna, under an installation of floating hearts that decorated the corridor.
Hmmm..it's not easy to recognise anybody in a bathrobe…
I answered, knowing that everything is possible, on the Swiss Riviera.
Was it her? And what had the hotel prepared for us, after hearing that it was my youngest daughter's 18th birthday? I only had to wait for the weekend to unroll, to find out.
Dramatic Looks
But let's take a step back. I had chosen this charming boutique hotel directly on the shores of lake Geneva to celebrate the birthday that made me a mother of three women: I have no bambine anymore. Being Italian and quite melodramatic, this was a landmark in our family, so I  wanted something special. Two days  immersed in beauty and fun, luxury and a maybe some mischief – no men allowed! I immediately thought of Grand Hotel du Lac in Vevey,  whose location offers mountain views at every turn, a spectacular stroll along the lake, and my favorite piece of outdoor art in Switzerland: the Fork of Vevey. The Fork is exactly what you think: a huge, stainless steel fork rising out of the lake. I am almost obsessed with it because it makes the best (and most photogenic) morning run ever, but I am not alone in loving it. First installed in front of the Nestlé Alimentarium Food Museum to mark its tenth anniversary (Vevey is home to the Nestlé HQ, just around the corner from the Museum), it became so iconic that, after it was removed in 1996, was reinstated, following a public petition.
I showed location and hotel to the girls, they loved it, I booked.
Surprise Program
When I received my booking confirmation, I informed the team about the birthday and asked them if they could suggest a little program for us. Here's what they came up with.
We got picked up at the station and shown our room, the honeymoon suite, that, being on two floors and connecting two bedrooms, is also suitable for a family. If you want to impress even the most seasoned traveler and get the wow effect, look no further. The glorious arched windows look into a sea of blue: azure lake waters and sky are only interrupted by the snow-capped mountains in the background. Even the bathroom enjoys the gorgeous view, and has such a delightful retro/lounge look that makes you feel like receiving people in it.
But it was time for the our first activity: the spa. We slipped into our white gowns. We saw the mysterious lady at the entrance and four fruit cocktails waiting for us at reception –  we had to guess what was inside them. That got us thinking for ten minutes until we gave up and were told that some ingredients were liquorice and edible gold leaves. Fancy!
Then we were asked to choose one of the available treatments. The girls sent me first, so they had more time to study the spa menu and think. I had a personalized body massage, especially for runners. Breathing the fresh air from the window and then the scent or the aromatic oils almost sent me to sleep, it was so relaxing. But then I went out and found the girls launching nuts at each other and trying to catch them with their mouths . Not really lady-like… We had  a good laugh, and  the staff, in a typical Swiss way, pretended not to see anything. A goodie bag full of Valmont creams (a Swiss cosmetic brand famous for its luxurious products) was the final touch. We pretended we were not super excited for the freebies (after some giggling and more laughing) and went back to the room. Not bad for a start!
Dinner was part of the so-called Lobster Fashion Week, a speciality that Michelin-starred chef Thomas Neesler prepares every year in this season. The girls combined it with a vegetarian option and had the first wine pairing of their life. That was quite a highlight! Don't forget that Vevey is in the region of the Lavaux vineyards, a UNESCO world heritage site. This means stunning views on the terraced vineyards, but also a real wine culture and tradition. My daughters didn't know what to order and just asked for a nice selection. They loved it so much that photographed all bottles and checked  their prices (by the way they were not crazy) to buy them again.
A bit of music  at the piano bar just around the restaurant, and we were ready for bed.
Pleasures for the Body and Soul
The morning after we were served breakfast in bed, which – keep in mind – was still in the most beautiful honeymoon suite in Canton Vaud. We opened every single window to breath the lake and soak in the views once more.
At 9am we were escorted to the Ballroom, a chambre of huge windows, wooden panels and chandeliers were marriages or parties are held. Without any warning, Fanny, our guide, pulled a table attached to the panel, slid it  into the room and revealed a secret entrance. Numerous oooh! and aaah!  later, we tiptoed again, and found a (very good looking  – which doesn't hurt) pastry chef, Cyril, standing behind a neo classical kitchen counter, holding some deliciously silky, melted chocolate. It smelled like heaven.This was our little surprise: a chocolate course.
Milk chocolate, I later found out, was invented in Vevey in 1875, with the aid of Henri Nestlé. So a little introduction to the art of chocolate was given to us in a very "hands on" manner. I was in charge of shaping truffles and made them so badly, that one could immediately tell  my pieces from the others.
Ils sont… artisanal!
Cyril told the girls, (who were winding me up) to defend me, and hiding a smile.
It took us about half an hour to complete our masterpieces:  four shiny heart-shaped chocolate boxes, stuffed with home-made truffles and packed in a GHDL logo. Time for our next appointment…
Chaplin's World
I had always heard that Charlie Chaplin had a fabulous residence in Switzerland but I didn't know where, and that one can actually visit it. Chaplin lived in Vevey from 1952 to his death, in 1977. The Grand Hotel du Lac limousine dropped us at his villa's gate.
We didn't have to queue up or even look for the entrance, because  two guides immediately spotted us and escorted us to the mansion. The tour started in a small cinema, with a short movie  illustrating Chaplin's life, his most important achievements and his work as a pacifist and humanitarian. The red velvet curtains opened at the end, and we found ourselves in the past. We could walk in an old street of London at the beginning of the century, built like a Hollywood set, a replica of places where Chaplin lived and worked. His studio for example: did you know that he wrote, directed, produced, edited, starred in and composed the music of all his films? He even did all the stunts, because he was a fully trained athlete and acrobat. A real perfectionist who won three Oscars (two are displayed in the Museum, one was stolen), and whose financial independence allowed him to spend years producing a movie. It was fascinating to see his first contract, the letter from the Queen proclaiming him a Sir, the kilometers of celluloid with his images. It was fun to be photographed in rooms perfectly duplicating his most famous movie scenes, or with Albert  Einstein , who was a close friend and with whom Chaplin made a legendary joint arrival at the premiere of the film City Lights in 1931.
The final part of the museum is the real house where the Chaplins lived, with original furniture, objects and documents. Some private videos of Chaplin, his 8 younger kids , and the family sipping from a spoon and rhythmically putting it back in the soup all together, like a ballet, brought a smile to my face, especially because I was watching them while sitting at exactly the same bench in the columned porch shown in the video. Beautiful photos and images showed an idyllic al fresco dining in front of the Swiss French snowy peaks. We turned our backs and admired them for real.
The goodie bag at the end of the visit? A bow hat and a cane, of course!
From the Riviera to the Swiss Mountains
It was time to check out from Grand Hotel du Lac, but we took the last proposal they suggested for the  birthday program: the GoldenPass, a Belle Époque train from Montreux (7 km away from Vevey) to Gstaad. This is a little known gem that allows you to leave the Mediterranean landscape and, already 20 minutes later, suddenly change scenery and finally reach the Bernese Oberland Mountains. The change is so dramatic that you feel it's almost not possible. The train track was built between 1904 and 1905 (half by the Swiss Germans, half by the Swiss French)  and never stopped its service, up to today. Carriages are a triumph of wood and gold, and every detail  from the lamps, to the seating and the switches are in the 1930 style, but with all the luxury of  modern comfort. Green and red velvets, padded seats and walls, make every sound muffled, and every movement smooth. People on the train are hardly on the phone because the trip is so panoramic, also thanks to the wide windows. The whole route is majestic, and surprises come at every corner. We passed Le Grand Chalet in Rossinière, the biggest chalet in Switzerland, where Balthus lived, and later on visited by the Dalai Lama, Bono, Richard Gere and David Bowie. We made a U-turn in a tunnel, and reached the biggest park in Canton Vaud, the Park Jura Vadois, that from the train shows the shape of a heart. We reached our end station, Gstaad, and had a coffee pit stop in the middle of its glorious chalets.
It was time to go home.
Secret Agents Return
Being used to life with four women,  my husband wasn't really surprised when we arrived home and talked all at the same time, enthusiastic and full of impressions.
What happens in Vevey, girls…stays in Vevey!
I proclaimed in a solemn tone.
I hope he doesn't read this article to find out that we didn't do any mischief, but only laughed, relaxed, loved being together and even spent some time in the kitchen.
Grand Hotel du Lac completely immersed us in luxury, that easy going luxurious style of small details and of being looked after without intrusion. If you want to have a taste of the place without spending a night there, just sit on its sofas by the lakeside or within the garden and have a drink – everybody is welcome and can enjoy its fabulous surroundings, the little harbour and the mountains.
Did we find out about the mother of the richest man in the world? I tried to bribe the staff, but their lips were sealed. Their eyes sparkled, though. Maybe we'll find out on a new mission on the azure of Vevey. Au revoir, Grand Hotel du Lac!