November 12, 2022
|
Travel, Montreux

,
Fairytale Fairmont
Best of the Swiss Riviera Review
We all came out to MontreuxOn the Lake Geneva shorelineTo make records with a mobile, yeah
Sang Deep Purple in Smoke on the Water. Did you know that the famous riff of this song is Beethoven fifth in reverse? Just one of the many anecdotes linked to Montreux, the picturesque city on the Swiss Riviera surrounded by the soaring Alps, nestled along the shores of Lake Geneva and famous for its strong link to music. Live Jazz at the Montreux Jazz Festival isn't the only attraction, though. If you want to really experience the culture and glamour of this town,  Fairmont Le Montreux Palace is the place to visit.
Fairmont Le Montreux Palace
Under palm trees and exotic vegetation, statues of Louis Armstrong, Ella Fitzgerald, Ray Charles and many more musicians grace the immaculate green grass in front of the Fairmont Le Montreux Palace.
What a perfect place for a short run. The spectacular shoreline is thirteen km long and the microclimate always sweet, so if you stay at the Fairmont make sure that you get a nice walk, run or stretch just in front of it.
The Belle Époque architecture is majestic – it has delighted visitors for over a century and it's going to be renovated next year, but it is absolutely stunning like this, so I hope they won't change too much of it.
From outside, one can spot the famous yellow curtains of the Palace, and the musically themed Jazz Café, featuring colourful pictures,  memorabilia, Juke Box and retro objects mixed with a sleek and modern design.
Jazz Café
I entered the café really hungry but didn't want to eat a meal because of the gourmet event (S.Pellegrino Sapori Ticino) I would attend that evening in the hotel ballroom – I had seen the tables getting set and knew something big was going to happen. I asked a young waitress it she could give me some bread to feed the birds and take some pictures of them, and also for me to snack a bit while waiting for dinner. She came back with a basket of warm rolls and refused to take any money or room number.
Just take this, feed the birds and yourself to survive the afternoon!
She said, smiling.
Someone was playing at the grand piano – I tell you , this place spoils you with good music 24/7 – I listened for a while, then off I was to enjoy the peace and quiet of my room.
Rooms
My room – a terraced suite with spectacular lake view – featured airy windows, a balcony, a dresser with big mirrors, an ample closet  and a desk/working area. Great to work a bit at my photos and to make myself beautiful later on with the perfect light. A classic marble bathroom with retro taps featured both shower and bath, fluffy towels and bathrobes.
Dining
There are many options to eat at the  Fairmont Le Montreux Palace: Le Palmeraie for breakfast, Jazz Café for bistrot food, Nikkei Nine for Asian flair, Pureaty café for a snack at the Spa, in-room service and, of course, the possibility of formal dinner in one of the majestic rooms where resident chef Frédéric Gardette, who comes from Alain Ducasse and then Café de la Paix in Paris, performs his magic. As I already wrote, I was at the hotel for a Gourmet Festival and had already seen the chosen room for the evening. It was empty, so I couldn't resist lying on the floor to photograph its majestic chandelier. That's where some of the staff found me. In a typical Swiss manner, they were preparing everything talking in four languages.
Don't pour the San Pellegrino water to the guests! It's just a decoration and we are not allowed to touch it
Said someone who appeared to be the restaurant manager.
And don't disturb the lady on the floor
He added with a smile.
There is no way you can embarrass yourself at the Fairmont Le Montreux Palace. Even if you try as hard as I did…
Spa
The Spa is as iconic as you might imagine. The big pool with calm waters mirroring the lake and lush vegetation visible through a glass wall,  the towering jacuzzi, the ladies-only area where a more private whirlpool surrounded by sauna, steam room, pink salt room and treatment rooms are fun just to walk by, so you should definitely have a look there. You won't resist stopping a moment to relax. There is also a gym with the same indoor/outdoor feeling, where you can workout while watching the lake. I obviously tried it all – do I need to say that?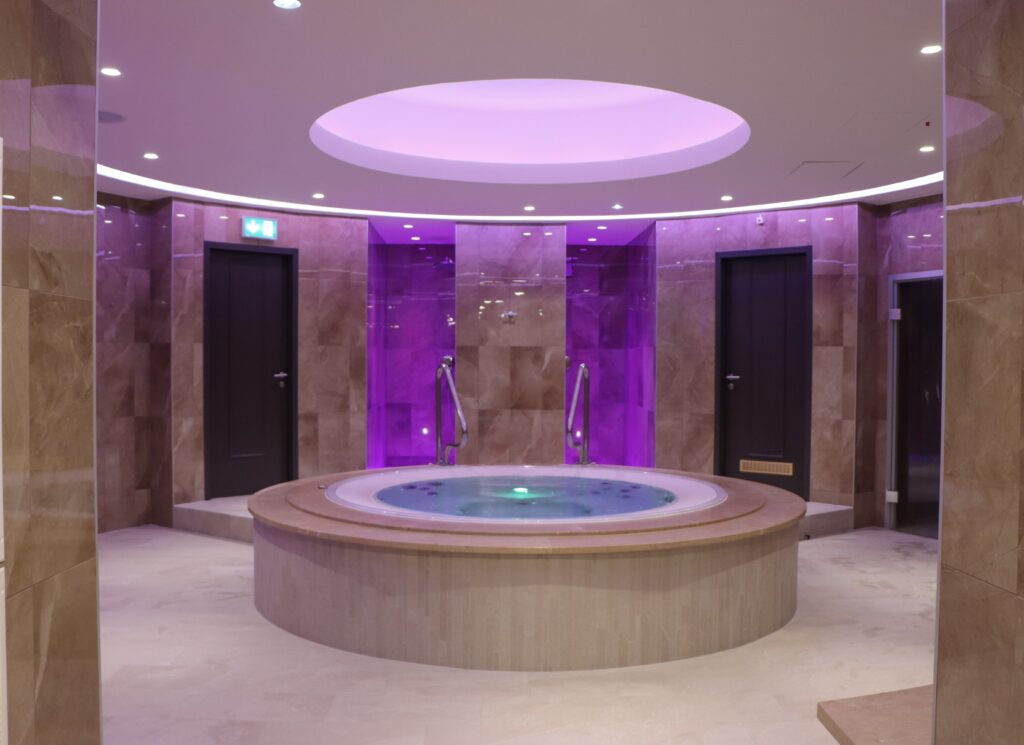 Staff
There is a question I get asked all the time  by people who see me visiting beautiful hotels – on Instagram, in real life, by email etc: how is the hotel really like? Snobbish, stiff, formal, friendly?
I guess the major concern about luxury is finding out if it gives you the right emotions. Only emotions can make people decide to invest in a great service or stay.
Fairmont Le Montreux Palace's staff is the answer to this question.  They are friendly and proactive, immediately available, but not intrusive. I got my room four hours in advance without even asking. I got free bread without being judged. I was caught lying on the floor and felt like it was the most normal thing to do in a grand ballroom. So if you want to experience classic grandeur in a warm and lively atmosphere, this is the address to try in Montreux.