December 13, 2017
|
Fashion

,

Lifestyle

,
MINI Meets Fashion
What do you think might happen, when Fashion & Lifestyle collide on the streets of Zurich?
For the first time #MINIMeetsFashion at the GROSSCOUTURE brandstore in Bahnhofstrasse. Known for being between the world's top luxury capitals, Zurich is also a city that -in its conservative way- loves to be exuberant. Bonding MINI with one of the most established store in town, it's just an example.
GROSS COUTURE represents the language of true luxury, which differentiates stylish fashion from the rest :
lt doesn't scream – it whispers.
"Our vision is to build bridges. Bridges across generations. Bridges between tradition and contemporary Iifestyle. Exclusivity, luxury and innovation are the first common denominators in our tireless search." Roberto Quaglia.  
Christmas vibes, warm lights, a cozy atmosphere and a perfect location; this is pretty much how an experience at GROSSCOUTURE will look like – oh, and of course, the new MINI Clubman parked outside, ready for a test drive.
A sophisticated car, the epitome of style & perfect for the city. Better in space and in style; safer than ever. MINI reinvented itself, and packed this beautiful car with innovative technology – the ability to access all your favourite apps in-car, for example. Safetiness and style are the key words for this new model.
I've experienced my afternoon at GROSSCOUTURE feeling spoiled by the amazing service it offers, having my "pretty woman" moment trying all the clothes that caught my attention, basically everything. From casual, everyday style, to cocktail dresses and gala gowns. Sparkle, quality, latest trends, class and big brands.
A gem in one of the most famous streets in the world, enhancing the class of our country, its taste for fashion, and this time, with a touch of wilderness thank to MINI.
A very special bonding: What do MINI & GROSSCOUTURE have in common? Design, quality and style, three extremely important factors in the fashion & lifestyle industry. An eye catching car, next to the marvellous windows of GROSSCOUTURE, guaranteed to turn your heads, makes it a combination of power, class & elegance – and great performance. Two big names united to enhance each other.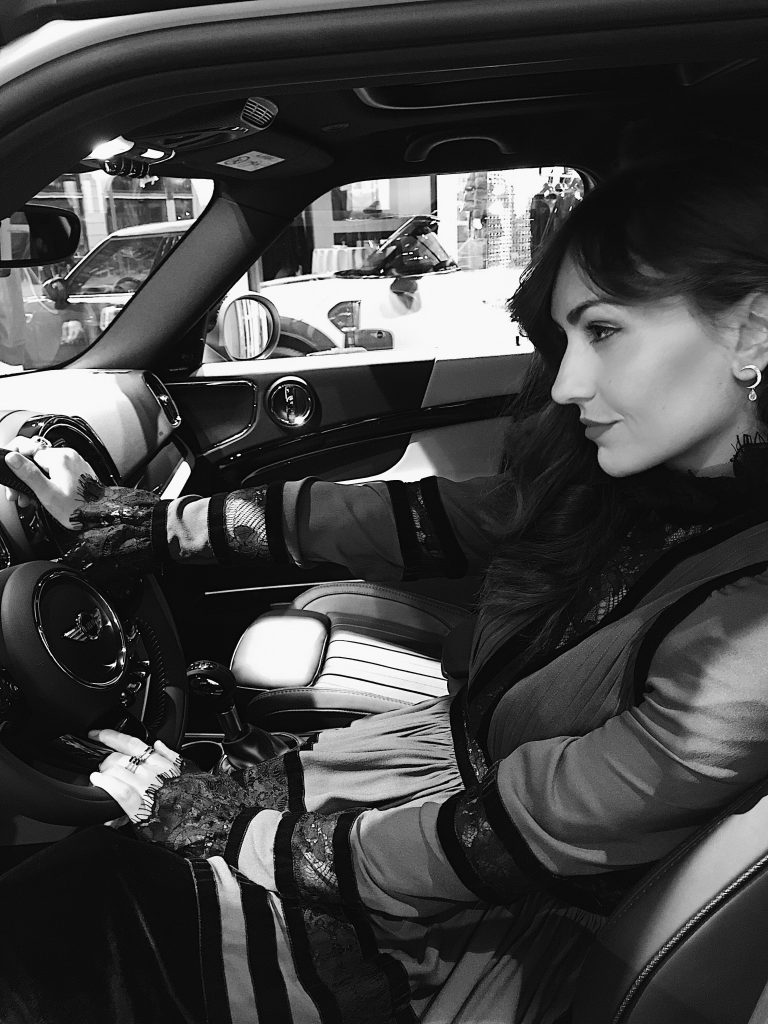 xx, Geri