August 23, 2023
|
Travel

,
10 Top Tips to Visit the Greek Islands
Santorini, Ios, Paros and Mykonos
…is the itinerary we chose (my family and I) to get an idea about the Cyclades, or better the Greek islands. We wanted to try 4 places as different as possible, and we were surprised to see how strongly they indeed have their own special character.
-Santorini: best infinity pools and views. Upscale shopping.
-Ios: most chilled, friendly and with a hippie touch.
-Paros: little stone beaches to be reached from the cliffs and warm feeling of traditional seaside life.
-Mykonos: best looking crowd, most lively and expensive shopping, gay destination, fancy outfits, a bit loud at night, but overall still good also for families and people looking for a lively but healthy holiday.
When I posted the first images on Instagram, my friend Yvonne from
FunkyForty
asked me the 10 top tips to travel in the area, because she's never been there. So here they are .
1-Don't chase the sunset, the sunset is chasing you.
For some reason (good marketing? Social media viral content?) everybody in Santorini and Mykonos – the most popular Greek islands – seem convinced that the sunset is visibile only from a certain perfect spot. That's why, around 8 pm , you'll see an incredible line of half blocked cars coming back to hotels and restaurants, polluting and probably making their drivers totally stressed. Instead, consider staying where you are: the sun is beautiful from everywhere and the only way to miss it is falling asleep.
2-Save money in Ios
I am often one of those who thinks: when you save money on holiday, you're probably going to get a worse result. This is not the case in Ios, where prices can be five times lower than in Mykonos, and the atmosphere is definitely more relaxed. In Uros – the main city – we avoided the busy center and went to the harbor, where the best beach and a bed on first row costed 7 Euro the whole day, featuring Wi-Fi, good design, a lovely coffee shop and just the right amount of people. We stayed in a simple Airbnb and my daughters loved the night life too (I don't know because I went to bed at 11, that is considered very early in Greece). If I have to described the word "chilled", I would say it's like being in Ios.
3-Eat local
Personally I have had some disappointments when trying to order Italian food or anything international on the islands. But when I went for Greek food (that I thought I didn't like very much) I was very pleasantly surprised. Tomatoes, salads, and each herb taste intense and much better than in Switzerland. Feta cheese with honey was a discovery. These products are cultivated and not imported and one can really feel the difference.
4- Try 8 am magic
The Cyclades in August can be really busy and crowded with people going to the same place at the same time. Try the magic of being up at 8am and go near the water. Personally I love running or meditating or simply sitting on the ground and breathing the fresh air in. Remember the mood of the day is set by how you start your morning: enjoy the solitude, soak the views in, watch the natural light and the outdoors, go back to your hotel refreshed.
5- Bring something to do without internet.
Wi-Fi isn't everywhere like in Switzerland, so make sure you also have a book,  camera, a project or a plan about offline activities too.
6- Rent a quad
We actually didn't rent one and mostly walked or drove, but many tourists are seen traveling the islands up and down on quads or scooters. They all seemed to have fun, so give it a try if you're interested.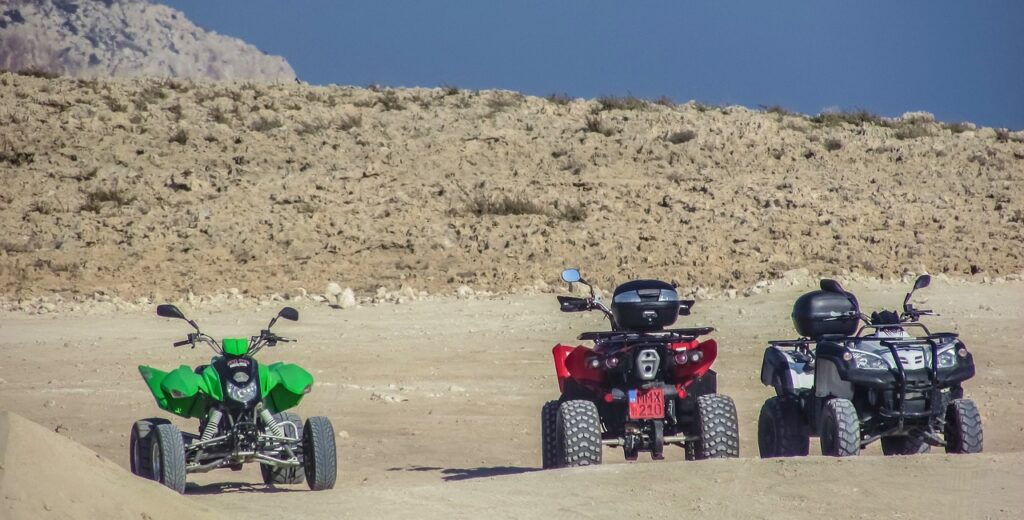 7- Get psychologically ready for toilets
The island's infrastructure doesn't allow you to put toilet paper in the toilet. You will have to put in a basket and accept that everybody else does it. Maybe you can pack wet wipes for the moments you are in a public restroom. For me this was the only negative point so I think one should know in advance.
8- Spend at least 3 nights in an island
We spent only 2 nights in each island and traveling was a bit too much, especially because you will need to queue up a lot, in the scorching sun, surrounded by a lot of people and luggage. Take enough time.
9- Tip and buy something
Locals are extremely nice, hard working, always in a good mood and very good at serving you. Drivers don't honk or shout at each other in the traffic. Hotel receptionists double up as porters, especially on steep stairs under the sun. Waiters are very attentive and offer you a dish if there was any problem or misunderstanding. Cleaners and bartenders are equally proactive and speak good English. That's why I suggest you try to give something to the local economy and also buy a little thing: if we don't encourage local shops and local workers, we will end up having the same things and the same style everywhere in the world.
10- Try Alexander Suites Paros and Anna's Restaurant.
Maria, the owner of
Alexander Suites,
has renovated an old house that belonged to her grandfather. It took her three years and she used the best pieces of furniture and accessories in there, and also the ones she would have liked most for herself. The result is an immaculately practical and pretty place 400 mt. from the sea, with top service and her attentive service. Everybody in the islands uses WhatsApp and Maria is also always quickly available. We loved the stay and the value for money, and we might go back.