October 19, 2023
|
Travel

,
Cena Dei Mille – The Longest Table In the World?
If You Are From Parma, You Are A Parmisan
Parma is the city of food, and that's why locals are called Parmigiani, a word that might sound like food to you. But don't be fooled: there is much more to it, and I got to experience it last week. And I fell in love…
On a glorious September evening, the city of Parma turns into an open air gourmet restaurant and an impressive lineup of Michelin starred chefs cook in the piazza, for exactly one thousand people. Before they start what looks like a perfectly rehearsed concert, the huge table in the city centre is covered with its endless white cloth and decorated with lemons, fresh herbs, tomatoes and colourful vegetables. Elegant sommeliers in high uniform prepare the wine and get asked for selfies. Young people wearing a badge clean the immaculate one thousand white chairs from any little spot. Beautiful ladies in a golden tan and high heels start to arrive. Police and carabinieri keep an eye on the crowd, speak with their hands and discuss just about everything under the 13th century palazzo in Piazza Garibaldi. This is Parma's elegant living room, and Yvonne of Funky Forty and myself are invited too.
The "Concert"
Three, two, one…bang! One of the local personalities (a President? A Mayor? A Politician? We will find out there are many of them) checks his watch, does the countdown and gives the official start to the event. A small army of cooks basically runs to their positions. The open-air kitchen looks like a stage. The two three Michelin starred chefs, Chicco Cerea of the restaurant Da Vittorio and Enrico Crippa of Piazza Duomo Alba are like two orchestra directors all staff keeps an eye on, so to follow their orders at the perfectly timed moments.
Massimo Spigaroli – obviously a Michelin-starred chef too, and President of the Fondation Parma UNESCO City of Gastronomy – is introduced to us. It is still a mystery to me how he can cook, coordinate staff, give orders and be graciously ready for a picture at the same time: is this the main difference between Swiss and Italian men… their ability to multi task? Anyway, I also notice that this smoothness and charm are no synonym with softness, though.
Since the peculiarity of the event, no special allowances or menu variations are allowed
Says the program.
We will all eat the same stuff, which, I confess, gives me a sigh of relief. It's a real Italian dinner, like in the old times.
The Menu
The opening drinks would be good enough as a whole dinner already. Stalls of any possible meat, cheese, balsamic vinegar and Parma wines fill up the piazza. As soon as you show you like something, someone arrives and explains its origin, story and implications. I think I moan while tasting a couple of canapés, because I keep receiving food, so many times, that I finally have to run away.
Then we sit down and enjoy:
-Tuna tartare with bagna cauda sauce and Pistachio crumble
-Nettle leaves cylinder with candied black truffle and smoked Parmisan
-Tender veal on sweet mashed potatoes and vegetable stuffed pumpkin flower
-Alba nuts cake with Zabaione cream and Moscato flavor
Be Italian
But  the most interesting part of the evening isn't the food. It's the people. Even though the athmosphere is so bubbly, I manage to strike some very interesting conversations, in some cases deeper than I expected. As an Italian living in Switzerland, people often ask me how I feel about the country, and are regularly surprised at how closely its messy and dramatic politics are followed from abroad.
Talking to some meat producers, in particular – their increasing difficulties due to vegetarian and vegan activists, constantly evolving European regulations, higher costs to keep the quality exceptional,  and so on – really makes me reflect about our way of consuming. To me, food is like fashion: we need to buy less, and spend (or invest, really) more.
Quality is a precious gift not to lose. Personally, I have become a vegetarian at home, but I still eat everything, meat included, in a social situation. This works for me and I don't mean we should all do this. But eating seasonal, local, and supporting what you believe in should be a priority.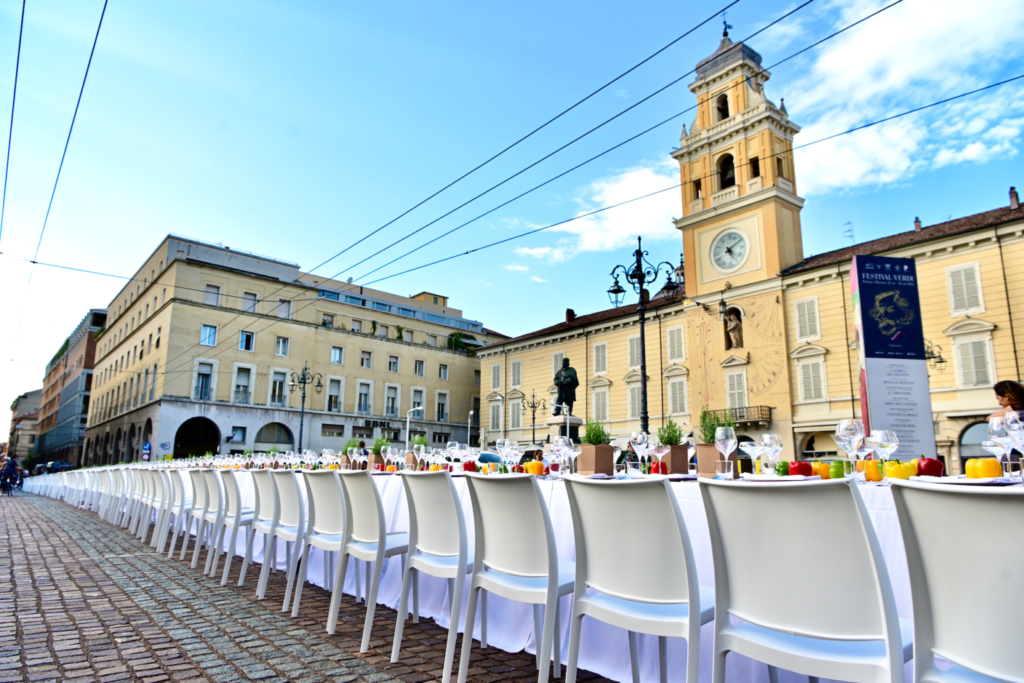 Yvonne
Let me go one step backward and talk about discovering the city of Parma with lovely Yvonne, my neighbour and colleague. She comes from New Zealand and lives in Switzerland, so it was fun to see her react to all things Italian. I think what she liked most was how often someone was coming to us to make sure we were fine, and that we got introduced to local personalities – and photographed with them, of course. Or the fact that we walked into a random coffee shop and the owner knew who we were…the constant recognition really felt good.
Here is a snippet of her article for Funky Forty:
…of course there police monitoring a little for trouble…like when I stood on a side table (being careful to take the table cloth off of course) to take photos. It took 2 seconds for the "polizia locale" to appear asking mw what on earth I was thinking. Beatrice saved the day with her charm…"guilty as charged" she said in her cutest Italian voice. She continued some sort of verbal diarrhea of which I understood nothing. Not to worry it's the end result that counts. We ended up both parties smiling, kissing and shaking hands with the "polizia locale" as we left. "Solo in Italia" could this happen. Smile!
The Morning After
The day after dinner we got up early to tour the city. Just around the corner of our delightful Bed & Breakfast, Pio Rooms is the Parma Cathedral. Its dome is decorated by a highly influential illusionistic fresco by Antonio da Correggio – a famous name in Italy. And again, if you show any interest in it, a passionate member of the staff will appear like magic and tell you its whole story…
This used to be the beating heart of the city, more than a thousands year ago
He explained.
It was a living room, a university and a training centre at the same time. One could learn everything by listening and looking at the pictures: how to sow a field, how to cure an ill person, how to manage money, and how to take care of your soul. It was also the centre of power, and all decisions were taken here.
He went on.
Two voices lively discussing the fact of being single distracted us. It was a real confession, and a young man was openly chatting to a priest sitting in the confessional. They didn't care about us listening to the intimate details and kept talking – it was a kind of a therapy session, really. Exactly like in the old days.
After our intense church visit, Yvonne decided she needed some shopping. Unlike the main – globalised – cities in the world, Parma still retains a multitude of small, specialised shops cleverly mixing old and new. Fashion, jewellery and food tempted us for two hours, until Yvonne had to give in and buy an emerald green skirt and some parmesan. Shopping was done. It was time for a castle.
Antica Corte Pallavicina
Our last stop before going back home was a castle, nothing less for us of course! A driver picked us up to go to Antica Corte Pallavicina, a farm stay so special and luxurious, that Alain Ducasse was recently a guest in its 13th century basement. This cellar is the absolute WOW piece and nobody gets in without marveling at the 8'000 pieces of fragrant culatello meat hanging on your head, its silver chandelier contrasting with the red bricks, and the customary  spiderwebs in some of the corridors. Free peacocks roamed the garden while guests were eating or sipping a herbal tea originally made by the cappuccini monks that used to live here. And yes, you guessed it: a Michelin star graces this place too.
We were almost overwhelmed by all the beauty and peace. But it was time to head home.
Train Fun
It's not the destination; it's the trip itself, someone said. In our case it was both, and traveling on the SBB train with Yvonne was for sure a big part of the fun. The first class train ride (thank you SBB for that privilege) was so smooth, that I made my make up there and then and impromptu photo shooting. The staff didn't blink, and actually made sure we got the right light and some hot coffee. It was with a touch of melancholy that we arrived in rainy Zurich, with our eyes filled with images, and our hearts melting for the sweet memories (and the good looking Italian men). I know for sure that we will go back to the Emilia region, because it's also quite close and practical, from Zurich, and really offers an oasis of peace and quality in this crazy world.
Below, some images taken by Yvonne. Grazie, Parma, and a big thank you to Visit Emilia for inviting us, and  to lovely Carla Soffritti for taking care of us.