February 7, 2021
|
cars

,

Technology

,
He Says, She Says – Fiat New 500 Cabrio La Prima
The ideal morning drive with Stephan Gubler, friend and journalist whose Instagram biography says:  consumer electronics-,sporting goods and car-journalist. runner, (track-)cyclist. Love dogs, cats, women (in that order) and nature.
Introduction
He says: The Fiat Cinquecento is a myth, yes a legend! Nothing represents Italy more and better than the good old 500. It was affordable, practical and it had style. How about the New 500? It surely is a bit less affordable but what's most important: it keeps the unmistakeable look of the Cinquecento.
She says: I am Italian and always had a Fiat Cinquecento; I know all versions and have great memories about them. From standing on the backseat of my grandfather's white one and sticking my head out to go to the beach at age 5, to kissing in an old rusty 500 aragosta (=lobster color) to a fancy 500 Tributo Ferrari, to my current 500 Abarth Cabrio, I am in love with all of them and people always tell me 500 is the perfect car for me, that's why I feel so drawn to La Prima too.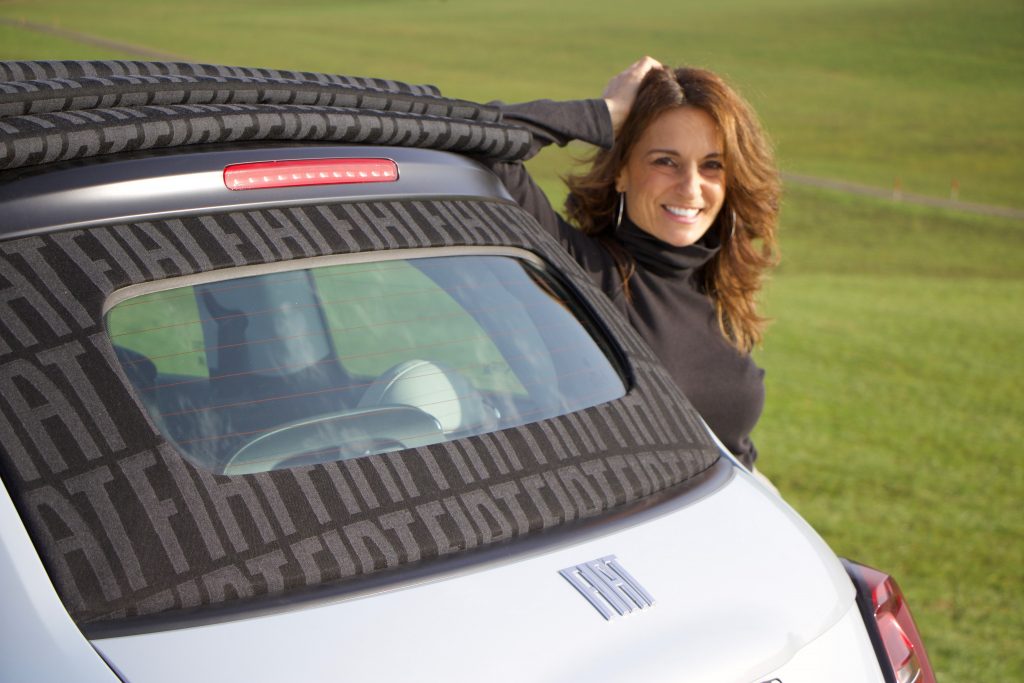 Walk around/ Exterior
He says: Those eyes! Yes, the LED-Lights are a masterpiece. They are cute, take over design elements from the old one and make the front look as friendly as a gelato vendor. Also inspired by the original from 1957 are the side arrows which function as blinkers. The Celestial Blue colour is another perfect example of the original baby blue taken to the present with its pearl shimmering metallic paint. The big 17 inch wheels with their fresh, sparkly design suit the electric car very well.
She says: The Bambi eyes are definitely the first striking thing one notices. I would have never guessed that blinkers are inspired by the 1957 version, but after Stephan told me I saw the resemblance. Design is an Italian strength and, in my opinion, the absolute best thing about this car. You can't argue this design isn't good. If you love good looks, with this 500 you can beat much more expensive cars on the market.
Interior
He says: Time to get into the car. I like the white seats with the Fiat monograms. Vegans, no worries! No animals had to give their skin because Fiat used Eco-leather for the luxurious La Prima. This limited launch version has every option that is available. Most noticeable is the Co-Driver. No, I don't mean Beatrice but an electronic assistant which can recognise street signs and even keep an automatic distance to the car in front of me when travelling faster than 30 km/h. When Beatrice has nothing more to say (which rarely happens), I can also turn on the DAB Radio which sounds really good. Off course I can play the music from my Smartphone directly. There is even a wireless charging booth for compatible phones.
She says: I was wearing Fendi boots, when we took these photographs, which were kind of matching the Fiat logo. I had saved the money for those boots for months (they are quite expensive), so that tells you how I feel about the "F" or letter pattern – I am as drawn to it as a kid to a candy shop. Surprise surprise…Stephan isn't the first man telling me I speak too much! But with a master coup de théâtre, he did manage to shut me up – the DAB Radio, as he says, is top notch.
Driving
He says: Ok, this is not my first time driving an electric car. So I am not surprised that turning the car on makes absolutely no sound. Funny detail: When driving slower than 20 km/h, the car plays music for pedestrian safety. Before I pick Beatrice up for the test-drive, I take the Fiat over the Buchenegg pass. I have driven Alfas, Lamborghinis and Aston Martins over this little mountain. Seriously, the electric 500 is as much fun on twisty roads because it has full torque at any time. Exiting corners is a blast. So the child in me already loves the new 500.
She says: I have also tried electric cars before, and I equally like the silence of a La Prima and a the roar of an Abarth. Stephan didn't manage to make me sick with his driving just because we didn't do too many curves, together. But the acceleration is wicked and really good fun.
Practicality
He says: The car is a lot bigger than the old 500 but for today's standards still a small vehicle. So it is perfect to drive into the city or go shopping. One thing I really miss on this convertible is a rear hatch that allows loading normal size grocery bags. These have to be put in the car through the front. And there is no way, I could transport my bicycle.
She says: Since I remember how small the original 500 was, I find this one almost too big. Stephan has no idea of what he's talking about – he's clearly a spoilt Swiss. One millimetre more, and the new 500 would look off. Like this, it's perfect for groceries and, when it's time to bike, one can simply bike (without transporting the bike!)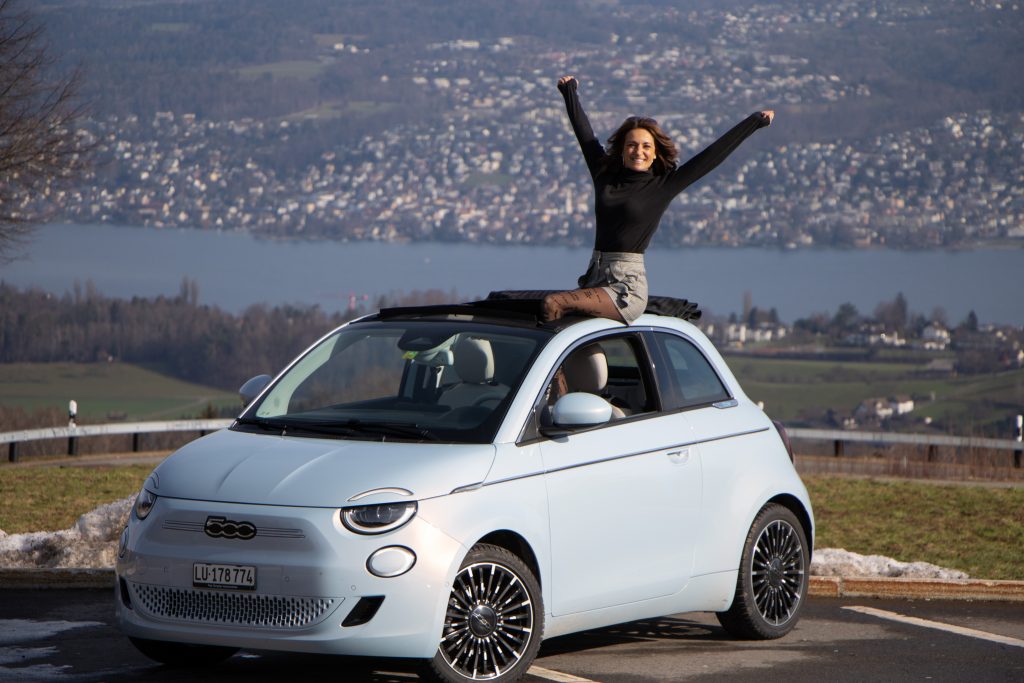 Conclusion
He says: I am not really into retro look cars but I already liked the new version of the 500. Now that there is a modern electric version, this little Fiat is the perfect everyday car. Yes, electric cars, specially this one, are not cheap, but the La Prima offers plenty of luxury and even more style. I have gotten way more positive feedbacks than when I show up in a Super Sports car which costs five times.
She says: I am, into retro looks, so I love this new 500. Price is steep indeed, therefore I am really in two minds about it. But don't be surprised if you soon see me driving La Prima in everyday life – my husband loves it too, and I think this car has achieved the difficult task of appealing to both men and women: it's not a "girlie" car. The future is electric, and La Prima is, right now, the cutest of them all.