May 3, 2022
|
Events

,

Fitness

,

Running

,

Sports

,
The On Athletic Club Europe – Dreaming On
Young and Beautiful
The OAC Europe – On's brand new track team for up-and-coming runners who dare to Dream On – was launched today in Zurich, on a glorious sunny morning. As you can imagine, every On event starts by running. This morning was no exception and guests, press and friends, me included, were first of all invited to the track at Letzigrund stadium, to make some running drills and intervals together with the athletes. The drills were achievable, but the intervals were obviously very hard! So I couldn't follow and started to film the athletes, and those who could train all the way through. It's always a pleasure to see young, good looking (and very well dressed too, in this case) people showing their strength and motivation. After the session and a shower, we went in to hear about the team projects and ambitions.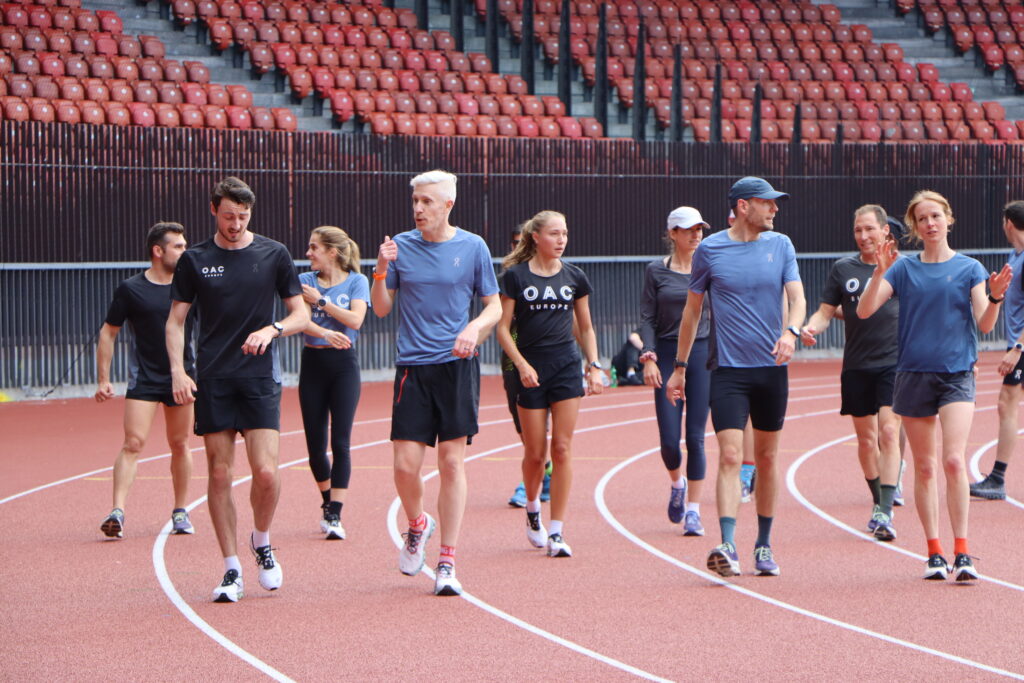 LA28
Olivier Bernhard, On co-founder and 5 times winner of IM Zurich among the many achievements, said it immediately, when presenting OAC Europe: the youngest track team hired by On up to now has a big potential, and the hope to arrive at the 2028 Los Angeles Olympic games at the final. Olivier was so bold in stating this right at the beginning of his speech, that I really bet he will manage to reach his goal. Manifesting a wish, working on it, dreaming big and putting great people together is for sure a very good way to make things happen.
That Time With Lance Armstrong
Teams can move mountains
Oliver also said.
I remember I once rode my bike with Lance Amstrong. I learnt so much from just one day together with such a champion. We were in the Swiss Alps, in Engadin, and he cracked one joke after the other. Then, he said: "let's go for it now", and pushed really hard. I couldn't believe how focused he was, for quite a long time, and how, when he finished, he switched back to fun and relaxation. His capacity to go full in was amazing, but I also learnt how important it is to switch off and recover. That's why it was a dream of mine to put together a team of talents with a big potential, who experienced some success and were hungry for more, and give them the chance to train with in the best conditions, together. It's not only about wearing the On logo, it's about following them up, listening to them, learning from each other, mentoring, consulting, challenging each other, and a lot more.  Diversity is a huge plus, and after one and a half years from the start of this project we already had three athletes going to Tokio! It went really fast and better than we thought, so now we are looking at enlarging the team and preparing it for LA28. 
Athletes Stories
The OAC Europe team will be based in St.Moritz for altitude training during the Summer, to move to South Africa over the winter.
Listening to the athletes was very inspiring, especially because they took a leap of faith, when they accepted the On offer: the project was at the very beginning and there was no product, yet. Marta Garcia, a Spanish medicine student, said she accepted because she is finishing her medicine study and had to make a choice: doctor or professional athlete? The On concept really helped her to decide . George Mills, a UK athlete, said it was " a no brainer", and that he immediately felt seen and listened to, and could make all the suggestions and remarks he wanted, so it is a very creative and proactive job too. Stories, videos, and hopefully medals will be available on the On platform soon. Good luck!