November 20, 2020
|
Accessories

,

Health

,

Lifestyle

,
Zoe Is Turning Swiss Homes into Wellness Retreats
Who is Zoe?
Imagine you have a new roommate – she looks good and you really love to spend time with her. She has a hidden talent: to give you that extra feeling of luxury in everyday life,  and make you relax deeply. This might be the reason why everybody who "invited" her once is keen to spread the word around, like I'm doing right now.
Fragrant Air
Let's take a step back and see how Switzerland thinks in matters wellbeing.
Swiss people are proud of their outdoors, and of their indoors too. There is nothing a Swiss person enjoys more than going out into the nature, and after that getting some rest in their favorite spot at home. With more and more time spent indoors these days – for the reasons we all know –  homes have become a cocoon, a safe place, a haven to relax and forget the mad world outside. And, possibly, to breath the best scented air too.
Swiss Roommates
When Martin Stadler, now founder and CEO of Stadler Form, needed a humidifier in his beautiful and beloved flat over twenty years ago, he went shopping and couldn't find something that was good to Swiss standards, but also looked good enough for his place. He then decided to make one himself, and to improve and enhance the world of air treatment at home… the Swiss way. He wanted to create something beautiful and high performing, but also something we all want to share our space with, like some elegant and useful "roommate" that enhance our wellbeing. That's how a series of appliances were born, and why they all have a person's name.
From A to Z
Anna, Charly, Emma, George,  Zoe…all have a different "personality" and a different use. All make the quality of indoor air the healthiest possible: more or less humid, purified and enhanced, or with a relaxing aroma scent, like glowing Zoe.
Zoe is the one I picked – the elegant lady that makes everybody look at her mesmerizing flame and then gently inhale her aroma.  The flame isn't what you think at a first glance. It is the so-called Amber Light™ with its remarkably realistic flame effect.
A fine mist is produced by Zoe using ultrasonic technology. She fills the room with fragrance and can be personalized with the scent you love. Simply fill the container, and add a few drops of your favourite fragrance. When you switch on the device, a membrane inside will begin to vibrate. Those vibrations will nebulise the water-oil mixture which will be given off as fine mist, for up to 10 hours, in a quiet and energy-efficient way, transforming the room into an oasis of well-being.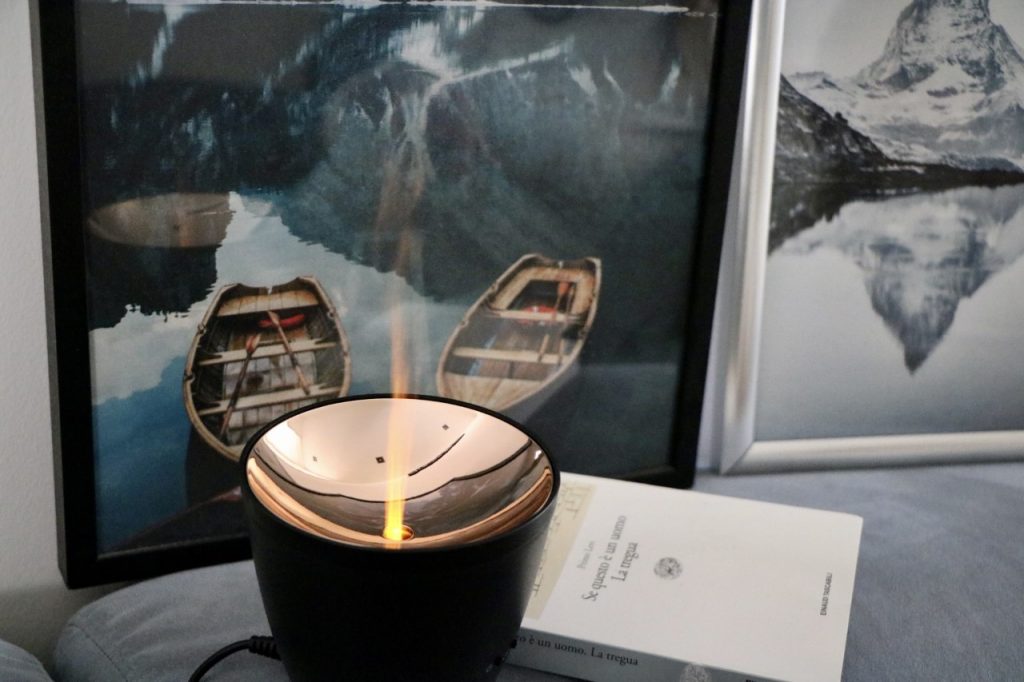 My Experience with Zoe
I switch Zoe on as soon as I want to give myself a treat – after a training, when I have a break to read, when I pet my dog Simba, for example. But I also use her to concentrate and work (in that case, I put her near my laptop), or for others: as a sign of welcome to my daughters coming from school, to create an atmosphere if I have guests, to help my daughters or their friends to study, work or relax.
I decided that next Christmas I'm going to give air appliances to my family, and will focus on Zoe especially for my younger friends, who love to transform their room or working station into their private wellness retreat. I am sure they'll pass the word around like me – that's how I heard about Zoe myself.
In the meantime, I am experimenting with different scents and the candlelight effect. My house is turning into a retreat too – maybe for Christmas I'll buy one more Zoe for myself too!