October 12, 2022
|
Watches

,
He Says, She Says – Breitling Endurance Pro
I want your (Uni-) Sex!
By Stephan Gubler and Beatrice Lessi
Breitling has just launched two new versions of its Endurance Pro watch. The Ironman and Ironman Finisher. Time to take a look at the existing and new models.
Introduction
In times of gendering we already encounter the first problem with the IRONMAN brand. What about all the IRONWOMEN? At least, Breitling has thought of them and launched a gender-neutral unisex-watch.
Outside: Super light, tough and sporty chic.
He says: I must admit I was already attracted to the Endurance Pro the first time I saw it on my cycling buddy Georges Kern's wrist. Now I finally wear one and it's the brand new IRONMAN version. The red dial and black bezel perfectly match the red rubber strap. The case is made of Breitlight. If you ask Breitling what this material is exactly made of, they look at you like the guys in the Appenzeller Cheese TV-commercial. All they want to tell us is that the high-tech polymer is 3.3 times lighter than the already superlight titanium. And that's what finally counts on a sports watch. I can confirm that the watch is so light and comfortable to wear that I even forgot to take it off before going to bed. But what about its one size that has to fit all wrists? While the 44mm watch case looks pretty huge on Beatrice's wrist, I could absolutely see me wearing a bigger size. But that's the only slight complaint I have. One detail I love about this watch is the anti-glare coating on the sapphire crystal which gives it a noble high-tech touch.
She Says: My Endurance Pro is better. Ok, it's very similar to Stephan's, but mine is yellow, which means one can see it from far, and very bold and photogenic. As he correctly said, it looks bigger on my wrist. People notice it and ask me questions about it – something I don't really hate! I have started to wear it also with elegant outfits, because I love how it stands out and how unexpected it is. Lightness is very important to me too: I am petite, so everything feels disproportioned and too heavy on me. Therefore, Stephan's opinion counts very little in this case, as I guess he rarely has such an issue. Instead of gender equality, in this case I would rather go for female superiority…
I didn't know about the anti-glare coating – thank you Stephan: now I understand why I can always read it, even though I don't have exactly eagle eyes.
Inner values
He says: What? No automatic movement on this timepiece? No, Breitling Caliber 82 is a so called SuperQuartz movement which is supposed to be ten times more precise than a regular quartz. And of course, it is light. And that's what Iron-men and –women want. Of course when training and competing, athletes like Breitling ambassadors Daniela Ryf and Ronnie Schildknecht use their Polars, Garmins and Suuntos. But as soon as they are done, they love having a good looking athleisure timepiece on their wrists.
She says: I don't use any smartwatch either and love to train with the feeling, so the Endurance Pro is my only sport watch. I also like to go running or biking without telephone, money, sunglasses, backpack…everything bothers me. I want to go out and feel completely free. This watch is so light that I feel like naked, therefore it's the only accessory I bring with me. I also think that, in case of emergency, I can always sell it on the spot for a good price, and pay for a helicopter ride or whatever I might need (smile).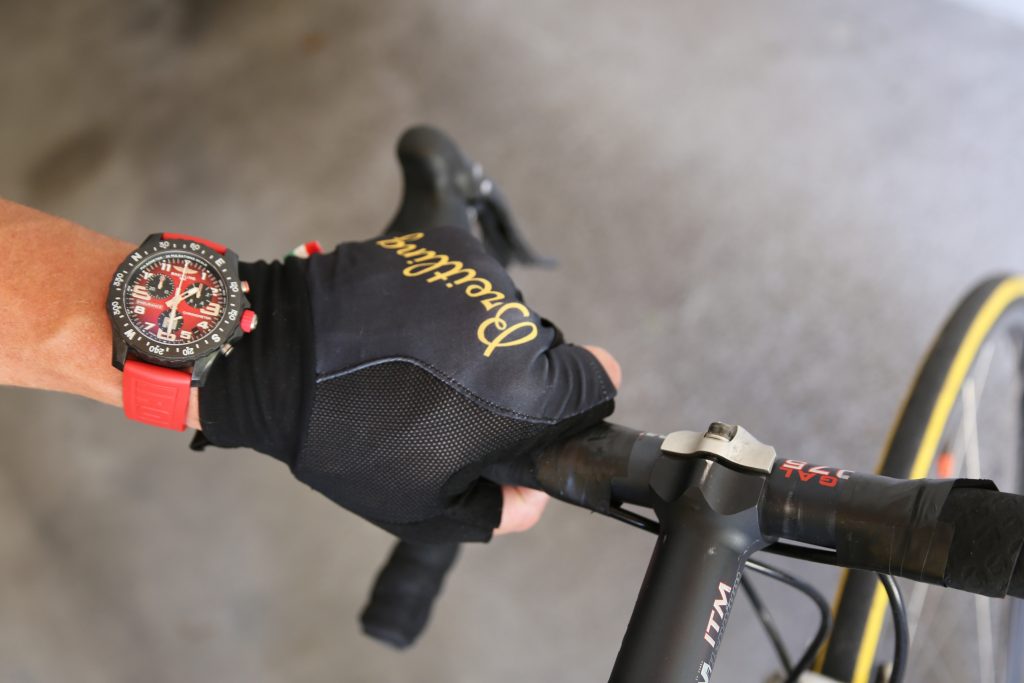 Conclusion
He says: the Endurance Pro IRONMAN edition is perfectly reflecting my personal sign of times. As a hobby athlete I couldn't care less about GPS, Strava and all these very unsexy looking sports-smartwatches. I want an accessory to my beautiful De Rosa bicycle and stylish Castelli clothes which shows me when it's time for a coffee break or a stop at my favourite gelateria. Of course I really want to do an IRONMAN now in order to get the even more stylish black and gold Endurance Pro Ironman Finisher.
She says: Finally Stephan is making some sense – I believe that feeling well dressed and super comfortable is a big part of the motivation to go out and train regularly. I love to dress up to run, hike, bike or climb, and of course, being on Instagram all the time, I also love to photograph my Endurance Pro. When people ask me tips or running programs, I always say that at least one training a week should be done for the fun of it, without necessarily watching numbers or wanting to perform. Let's enjoy nature, fresh air, the scents of the outdoors and…our cool outfits too. In my case, with my yellow Breitling, watching some IRONMAN race from far!