November 18, 2019
|
Travel, Lugano

,
Like a Yacht, but cooler and sexier: "The View" Design Boutique hotel, Lugano
Inspired by a yacht
When design is inspired by a luxury yacht, one can already imagine some features: Instagrammable décor, fantastic lighting, minimalistic shapes, precious woods and white spaces, a feeling of pure luxury. But The View – the hotel with the best view in Lugano (as the name obviously suggests) is much cooler and sexier than that.
Forget about stuffy elegance and imagine a relaxed place with good looking staff, top (but friendly) restaurant, the most flexible crew I have ever met (I changed my plans at least ten times in two days, and they didn't blink), and a lot of smiling people around. Oh, and the coolest bathroom you've seen in a suite! But let's see one thing at a time.
"Mangiare"
I used the Italian verb mangiare (eating) as a title, because chef Mauro Grandi made me feel at home. I know, the brunch, lunch and fine dining experiences are very elegant and fit for the most fussy customer. But Mauro is genuinely interested in your opinion, takes time to check each customer, creates small pieces of art on a plate, and is also ready to make you a simple snack at any time, if you wish. Never seen a less snobbish cook, considering the level of luxury we are talking about.
The Spa
This is probably the strongest feature of the hotel.
The mirroring images of palm trees in the pool are so photogenic, you might end up taking pictures all the time.
The pink wall made of Himalayan crystal salt you'll find in the adjacent room has the same beneficial effects as two days on the beach…but in half an hour. Simply lie down on a chair and breath: the iodine and negative ions released by the salt deeply purifies your skin (dramatically improving, for example, conditions like psoriasis) and helps against allergies, asthma,  sinusitis, by decongesting and disinfecting you respiratory tract .
Not convinced yet? Try the massage. The sweet and graceful masseuse who gave me one, upon my request of giving me a "tougher", sporty treatment, almost destroyed me! But she released every single tension in my back and, two days later, I still feel totally fresh.
The Turkish Bath, Sauna, Pool Bar offering smoothies, teas and infusions are also part of the offered services.
The Suites
The feeling of boutique hotel, at The View, is clear: there are 18 suites only, built five years ago, and they are incredibly fresh and immaculate.
You only have to walk towards the bathroom mirror and the lights switch on. Could this be the feature I loved most? When I go to a new hotel, I can never find out which switch works for which light. This really simplified my life. If you are a nerdy person and prefer to change settings or customise anything, simply use the room IPad to manage your favourite features.
And finally the oval bathtub. Try it! Sink in the bubbles while enjoying the best view in Lugano. If you don't say "wow", you are not human…
My Stay
I think it's clear that I loved the hotel. For a start, it's a small exclusive gem; the opposite of a classic hotel chain which can be so impersonal.
Then, its views would impress anybody.  Ticino is nicknamed the tropics of Switzerland , for its amazing landscape.
But what I loved most was the staff. I can be a challenging customer – I know that – because I often ask for more: can anybody help me to take pictures? Can someone tell me what's the best place to go after a conference? Can someone narrate some real stories about the "backstage" work required here?
The crew always met my needs with a smile, and actually I felt they really liked to help me. If you go to The View and feel treated badly, please write to me. I tell you: you won't.
So if you're looking for a really cool place to stay in the sunniest part of Switzerland, I suggest you to try The View, a place to enjoy in any season, or simply try their restaurant for some great flavours, and, of course, a warm smile.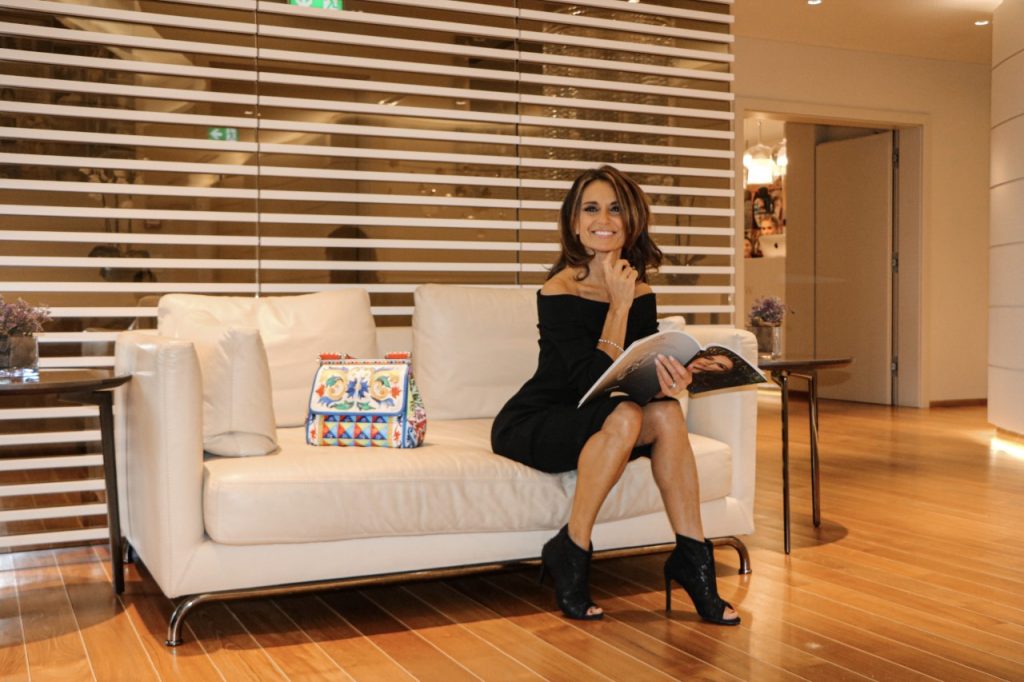 Clothes: Brusnika,online or in Torgasse 8, 8001, Zurich.
Dolce & Gabbana bag: Ragfair.