November 7, 2020
|
Travel, Gstaad

,

St.Moritz

,
Romantic Tour Of Switzerland
The Romantic Bucket List
If you are one of those people who watches splendid places on Instagram, then visits and "ticks the box"  thinking: done! , you will love the incredible selection of top locations offered by Swiss Deluxe Hotels. A tour of any of their hotels is the most romantic, high end, photogenic experiences you can ever have. Perfect for couples, but also families and…bloggers like me, these places scream love.
Swiss Deluxe Hotels
Always present in any worldwide chart of luxury hotels
8'000 employees
8'600 beds
1'229'448 overnight stays
22 destinations spread throughout Switzerland
Why Love
During my recent Tour de Swiss Deluxe Hotels, organised by the association itself, I visited the Gstaad Palace and the Suvretta House in St.Moritz, and ended up with a cocktail at Baur Au Lac, and dinner at Widder Hotel. All these places have something in common: a sincerely felt love for their territory, traditions, reputation and identity. Staff care, managers care, guests themselves care. I talk to a lot of people, I tell you! While chatting and laughing, I often interview them without they realise it. Here my impressions from the Tour.
Gstaad Palace
The thing I can't forget about the Gstaad Palace is that about 70% of clients visit it again and again, every year. Yes, you read well: 70% of customers are regular. How is that possible?
Maybe it's because the prestigious school Le Rosey – the most expensive school in the world, where Royals and billionaires send their children to study, (here's a list of the most illustrious alumni) – moves to Gstaad every winter, so if you are interested in high society and networking, this hotel might be a good idea.
Or perhaps, much more humbly, because most people working here are also returning each year, and feel like a family (many of them are Italian mother tongue, so I could  connect and even "spy" them a bit!).
Or also, because this please looks and feels like a fairytale castle. In fact, it IS, a fairytale castle.
Everything in the Palace is absolutely top luxury.
And yet, I couldn't find a coffee machine in my suite. From a dreamy bath tube with a romantic view over the mountains, to signature accessories like the most photographed slippers I have seen in a hotel, the room had it all. But no coffee. Sure there must be a reason?
Of course we are aware of that
Said Stefan Ludwig, EAM Sales & Marketing, when I asked him why.
At the Palace, people don't stay in their room and don't follow trends either; they go downstairs and meet!
My experience at the Palace was a dream, and I especially loved the views: these pictures have been taken with bad weather – they are still amazing.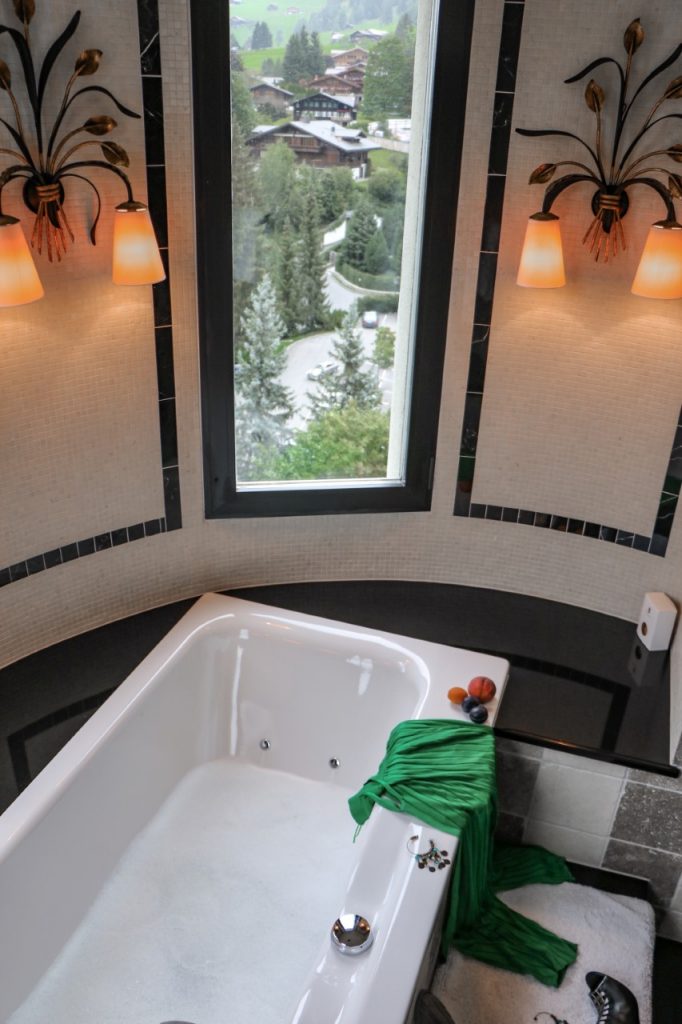 The Suvretta House
My next stop was the Suvretta. I had heard so much about it – this place is a Swiss legend.
I had also read that Marco Vaudo, the guy you see in the picture below, had been awarded the title of Concierge of the Year, and wondered: is he particularly efficient, or what makes him so special?
What makes him and his colleagues special is how  simpatico (friendly, and more!) he is. Like, actually, the rest of the team. They do work efficiently, remember exactly what you asked the day before and which room key you need, but it's their confident and slightly informal touch that goes to your heart.
In the afternoon I went for a massage that was so heavenly, I didn't dare falling asleep – even though it was so relaxing – not to miss a moment. The salt scrub at the beginning left my skin soft and even. Every part of my body was pampered.
I had dinner at one of the Suvretta's off-site restaurants, Chasellas. I loved their ceviche so much, that the chef had to take my email and promise to send me the recipe. He told me I'll never manage to replicate it, but I was praising him so much, that he had to give in!
The whole day after was reserved for a hike. You might have noticed that hiking and trail running are booming, especially in Switzerland. Well, I didn't want to miss my opportunity, so I went up the mountains early in the morning. There is a charming traditional chairlift passing over some of the fanciest villas in the area, then some fields, finally the stunning turquoise waters of Silvaplana lake, surrounded by beautiful mountains. The late Summer day was perfect, the views unbeatable. I also had a stop at Suvretta's second off-site restaurant, Trutz, the one you see in the photos. Once more, the staff was so friendly, that we ended up chatting and laughing like old friends. We ate together before serving "regular" customers.
I had to force myself to go back to the hotel and check out. I will definitely will be back with my husband once, in winter. Didn't I say this tour has been the most romantic ever? If you are looking for a special present or for the perfect weekend away, don't forget to check out the Swiss Deluxe Hotels website.
All my outfits are by Brusnika, Torgasse 8, 8001 Zurich.