May 17, 2020
|
Travel, Lugano

,
Top 5 Things to do in Lugano
1.Visit the LAC
The LAC is Lugano's bubbly cultural hub, designed ...per tutti (for everybody)! It's worth a visit even just for its iconic architecture, where indoor and outdoor mix together and one has almost the impression of flying over the lake. Art, photography, music, talks, free events, opera and crazy installations are offered all year round. If you aren't interested in the exhibitions, just walk in as the LAC were an ordinary street, or enjoy a coffee in its lively cafe.
2. Retro Yachting
A scenic boat trip on the Lugano lake offers views at every corner. About two thirds of the territory is Swiss, the rest is Italian, so one can choose from very different itineraries and boats, ranging from a modern ferry to a classic, wooden boat.
For a really fun trip, hire a pedalo: it's good exercise and has a deliciously retro design. A well deserved gelato can be a great idea after the effort!
 3. Spectacular Gandria Trail
A picturesque arch marks the beginning of the prettiest walk in Ticino – the Gandria trail. From there, one can choose to reach the Gandria village, or go to Parco degli Ulivi, located on the slopes of Monte Bré, that benefits from a mild climate even during the winter thanks to its southern exposure and protection from the winds. Take your time to enjoy the little alleys, the houses mirroring in the water, the blooming flowers, the lake and mountains views.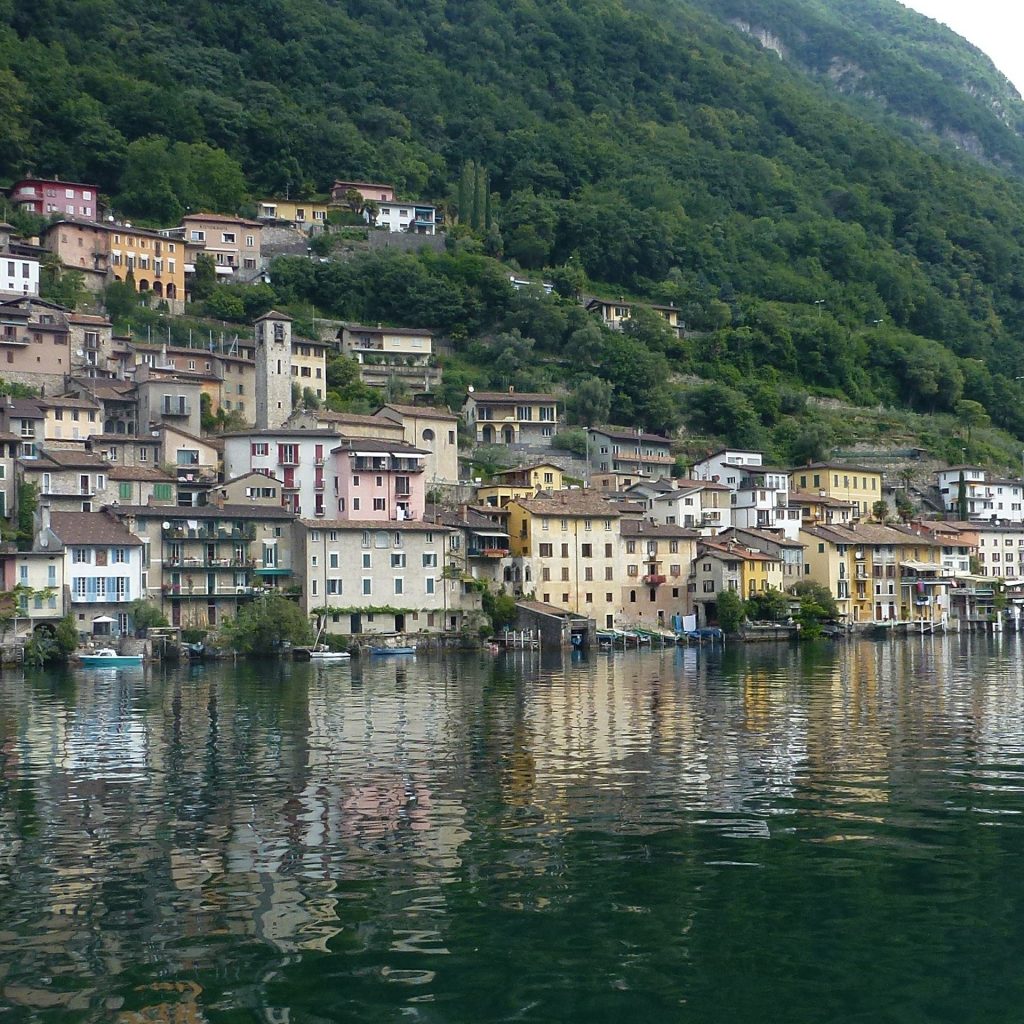 4. Monte Bré
Ticino means palm trees, lake and…mountains, of course! Monte Bré and Monte San Salvatore are the two major sightseeing spots near Lugano.
I pick Monte Bré as my favourite because I love its pretty, steep red cable car, that takes you from Lugano to the unspoiled summit, 933 mt. above sea level. The view of this breathtaking landscape stretches as far as Monte Rosa, the Alps and, of course, the gulf of Lugano. There are routes for any level of walking, hiking, mountain biking. Two restaurants and a museum complete the offer.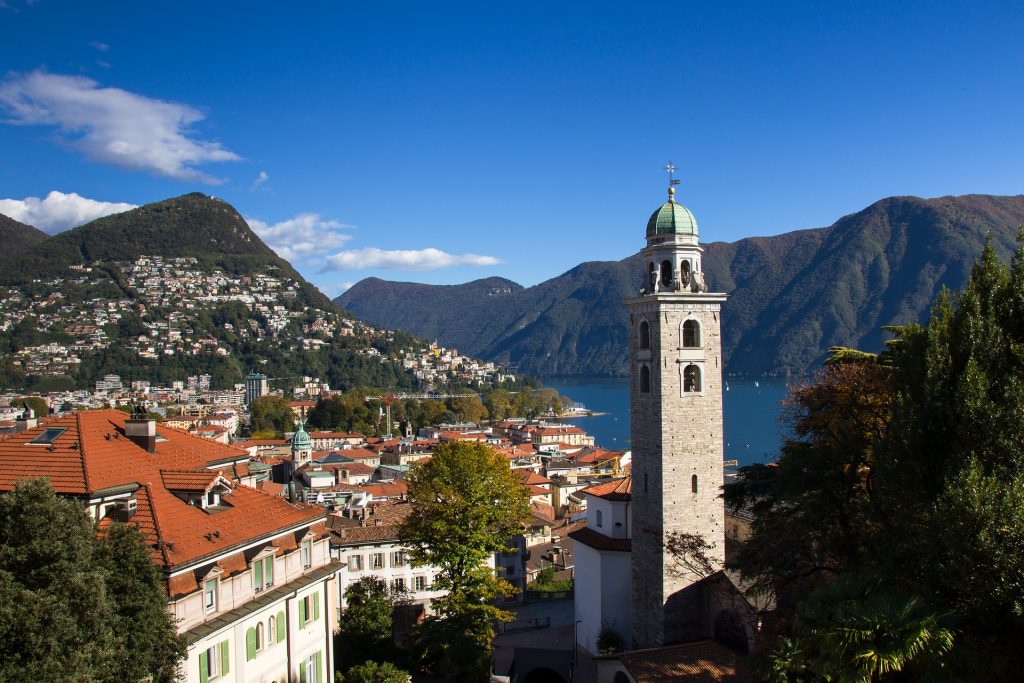 5. Old Town and Shopping
When I go to Lugano, I always meet someone I know in Piazza della Riforma – it's basically a meeting point for locals and a favourite spot for coffee or snacks.
This beautiful square in the centre of the town is surrounded by neoclassical buildings and  hosts many important events, concerts and festivals,  especially during the Summer season. From there, you can walk to different alleys with pretty arches and pillars, and enjoy  Via Nassa,  the famous shopping destination known for its high-end shops.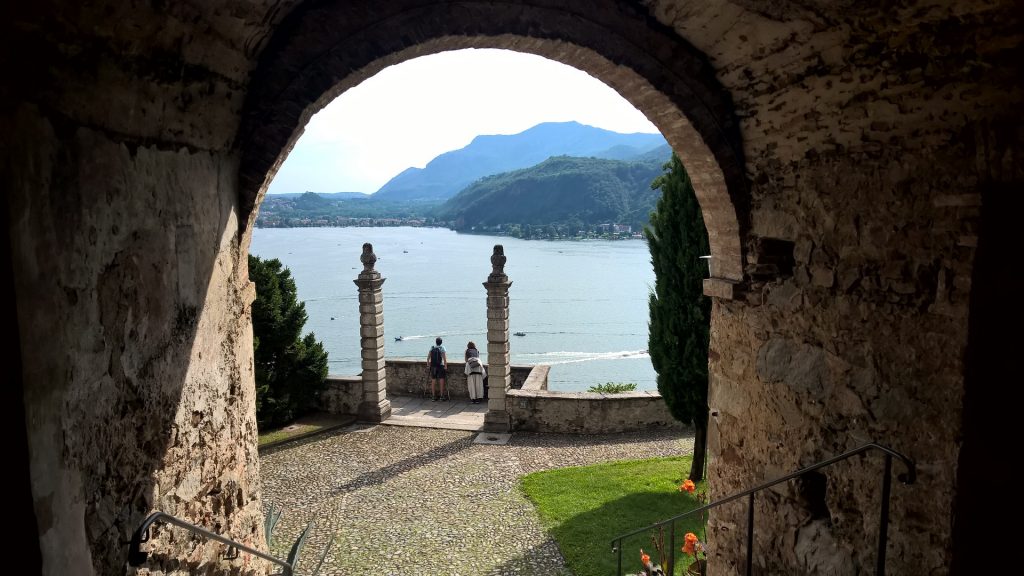 Runner's Tips
I am a keen runner and love to discover a city by jogging leisurely, stopping for photos, observing anything that catches my eyes, or simply enjoying the local atmosphere. Lugano and its surroundings are perfect for any level of running. Some of the things I have discovered here include:
Follow the sun: if you start your jog from the Splendide, keep in mind that the sun is on the side of the city centre until the evening. So if you want to be in the shadow, instead, choose direction Paradiso, on the opposite side.
Interval training: I love to challenge my jog with some faster, short training. Steps are perfect for that and in Lugano, around the Splendide and in the old town, the choice of quiet, beautiful spots with pretty staircases and cobblestones is endless. Go up and down, rest a moment, and repeat!
Protect yourself : Ticino enjoys a a Mediterranean influence and many hours of strong sun – don't forget your cream, or a cap, or both.
 For the hardcore ones: when I am preparing a marathon or an ultra marathon, I need to add some hard trainings to my usual routine. Ticino offers endless mountain trails, panoramic views and challenging steep tracks that are ideal for that. Both Monte San Salvatore and Monte Bré offer great options for serious training and, of course, panoramic views. Have a great run!