June 13, 2019
|
Fashion Advice

,
Zalon is officially the coolest styling tip ever
The Secret
What is the secret of a cool style, can one resume it in one word? If I had to choose one only, then I would say Zalon.
Personal Styling – Free and in the comfort of your home
I get often asked styling tips and how to be well dressed. The answer has to be especially made for you, there is no "one suits all" recipe. For example, would you like something for a special event? Or do you need something for the office? Or simply something new?
You can get the perfect answer – and outfit –  according to your needs by phone or messenger, by contacting Zalon by Zalando, the styling service that puts you in contact with a stylist who will then deliver you a box containing your final pieces. The service is free. Its main points:
300'ooo articles
2'000 brands
800 stylists
Stylist advice is for free
Zalon takes advantage of Zalando offers
You only pay what you keep
Styling for the whole family or for specific needs is offered (plus size, sports, etc)
100 days return policy
My Experience with Zalon
I received a big Zalon box and was very curious about the content – it's fun when you don't know what's inside!
Two flared pants were selected for me, and I was surprised, because I didn't mention it's a style I absolutely love. But the stylist somehow picked it and here you can see the deep blue ones she chose. Their shape shows off your curves and, together with the short top I also found in the box, they are one of those pieces that turn heads. The biggest surprise came with the sandals: I had never considered middle heels. When I tried them on, though, I realised how elegant they looked (especially when matching the top), and yet how comfortable they were. They are perfect for a whole day.
The same striped top I used for the first outfit can be also paired with a very versatile suede skirt you see in the pictures below. Earth tones make your skin flawless, and again the fit is gently showing off the body shape. Perfect for the weekend, or a leisure Summer day.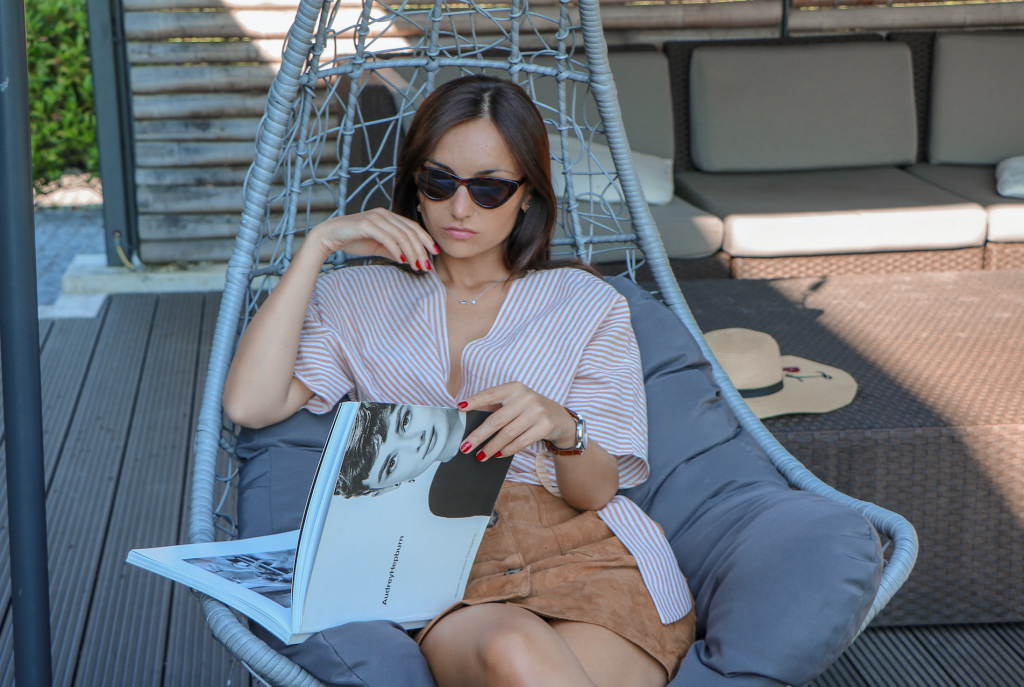 My absolutely favourite piece, though, was the Levi's denim jacket you see in the next photos. This is really the basic item to use everywhere, and that can be paired with endless outfits. I am a huge fan of beige and neutral shades. The beige, ribboned trousers are fantastic tone-on-tone with a similarly neutral top (both pieces were also sent by Zalon), and complete with the denim jacket on top. The trousers have a very subtle shine that, once more, makes them perfect for the whole day: in the morning for the office, but also in the evening for a night out.
I can really recommend Zalon for people who are fashion-oriented like me: you'll discover something new and you'll find the hand-picked pieces very wearable and suitable for you. It's also a very good service for those who don't feel sure about styling, and need some freshing-up of their wardrobe. Dear Zalon, it was fun! I'll use your service again when Winter arrives….