December 16, 2018
|
Travel, Art

,

johannesburg

,
SOLD! The Scandal, Mandela, Yiull
Anonymous Collector Pays Nearly Half a Million for Mandela Autopsy Painting
Johannesburg – Eight years after Yiull Damaso debuted "The Night Watch!" in a public viewing in Hyde Park, an anonymous collector made an offer to the artist for the painting.
Why I Love Yiull
I met Yiull and his girlfriend Michela on a steam boat in Venice, five years ago. I have been fascinated by his work since then, and I visited him together with my family during a trip to South Africa. There are at least 10 reasons why I love him, and I even wrote a blogpost about them. He's gorgeous, extravagant, controversial, inspired, and owns the most beautiful Vespa scooter in the world. But let's go back to his most famous painting.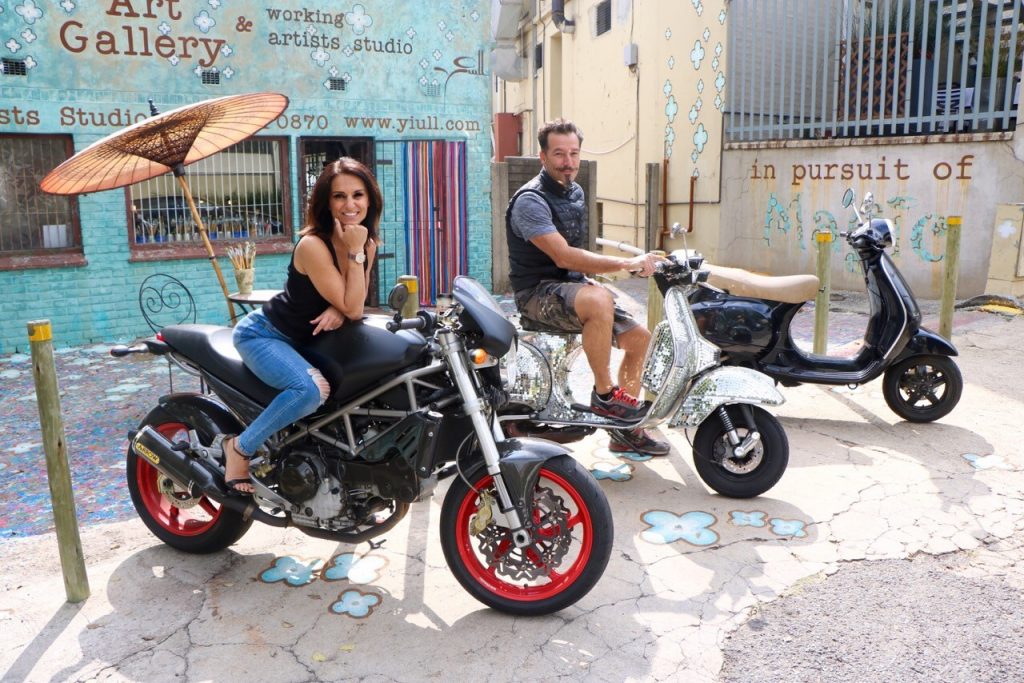 What Is It Exactly?
The artwork, which was based on the 17th century Rembrandt masterpiece "The Anatomy Lesson of Dr Nicolaes Tulp," depicts an autopsy of the corpse of Nelson Mandela, who was, at the time of the painting's release, frail, as well as just a few days away from celebrating his 92nd birthday. Onlookers featured in the painting included Jacob Zuma, Cyril Ramaphosa, Desmond Tutu, FW de Klerk, Thabo Mbeki, Helen Zille and Nkosi Johnson, the child AIDS activist who died at the age of 12, as the character of Dr Tulp.
The Scandal
News of the painting stirred outrage from the ANC, which released a statement the day after an image of the unfinished work appeared on the cover of the Mail & Guardian, condemning the work, saying it was "disrespectful" and "an insult and an affront to values of our society."
"In African society it is a foreign act of ubuthakathi (bewitch) to kill a living person," wrote ANC spokesperson Jackson Mthembu in the statement. "And this so-called work of art is also racist. It goes further by violating (Mandela's) dignity by stripping him naked in the glare of curious onlookers, some of whom have seen their apartheid ideals die before them."
Death Threats
As the controversy escalated, Yiull received several death threats for the artwork, and the story around it, made international news, appearing in the Guardian, BBC, New York Times, Los Angeles Times, Corriere de la Sera and France24, among others.
Four months later, the work was shown at an exhibition at Constitution Hill which was to last two weeks. It stayed up for two and a half months due to public demand.
The Deal
In September, more than eight years later, an offer was made via email directly to Yiull Damaso.
"The buyer has asked to remain anonymous," he said this week as he packed the work for shipment to Cape Town.
Yiull, 50, is well-known for his Nelson Mandela portrait series which also became a subject of controversy about the use of Mandela's image.