April 25, 2019
|
Travel, Como

,

Lifestyle

,
Mandarin Oriental Lake Como
Bellezza: 10/10
Italy, a land of culture and heritage. Also known as bella Italia! 
Geri and I were invited to visit and spend some time on Lake Como staying at the magnificent private residence turned hotel Mandarin Oriental Lake Como Resort & Spa.  A member of top level and world class clubs such as 'Small Leading Hotels of the World' and VIRTUOSO © and with a 5 star clientele. Our first impressions was an opened mouthed WOW! I didn't know what's more beautiful: the hotel, the lake, the swimming pool floating on the lake itself or the people.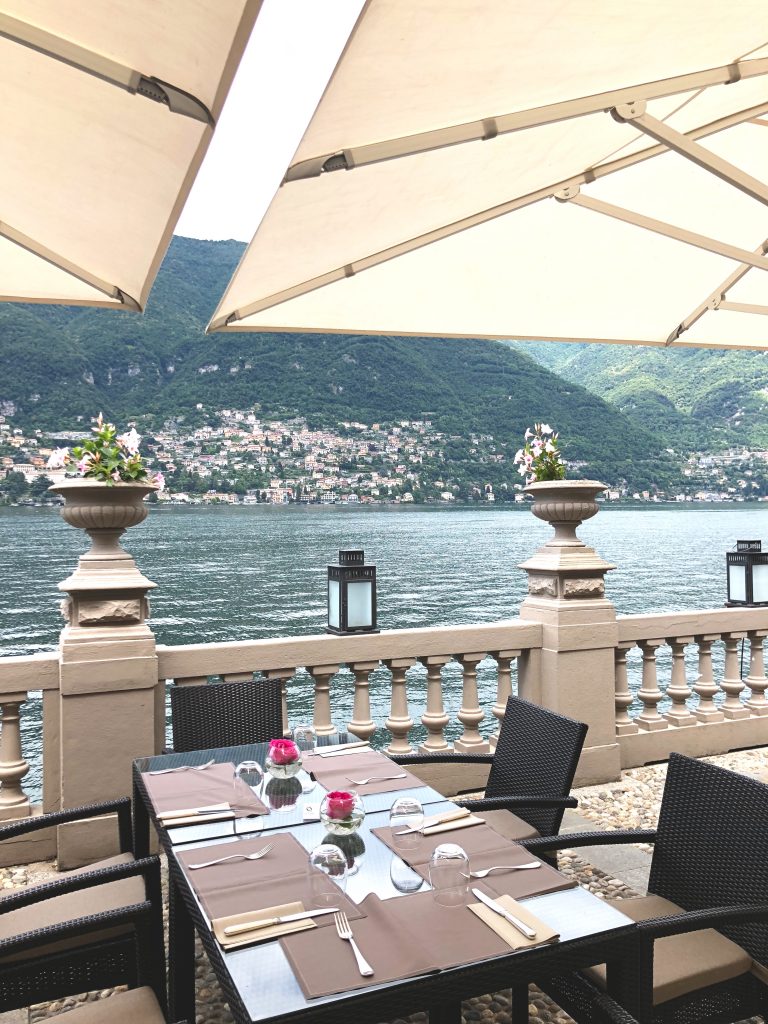 It was a tough one to choose. The views are spectacular from every corner. The hotel is immaculate and offers spacious rooms decorated tastefully, but what really struck me was the level of class of the visitors. Mandarin Oriental Lake Como is without doubt, the most hidden gem on the Lake of Como – a place where celebrities holiday in complete discretion. Some of the guests are so well known that I am sworn to secrecy on who was there whilst I was, trust me it was exclusive!
Location: 8/10
From Switzerland, Blevio, the village where Mandarin Oriental Lake Como  is located, is ideal for a weekend or a romantic break. Easy to drive to, it's far enough from the tourist crowds of Como, but still close to all the well-known landmarks of the area: from our terrace we could see the the delights of the Versace Villa, Amal & George Clooney's property and the grand Villa d'Este. 
Mandarin Oriental Lake Como is the first and only eco-friendly Resort on Lake Como, built adopting solutions that fully respect the environment and meet the highest standards of eco-sustainability. 
Lugano airport, Milan Malpensa and Linate airports are less than one-hour drive away.
Food: 9/10
It's a 5 star resort with amazing chef Massimiliano Mandozzi heading up the kitchen, taking into consideration the level of resort the cost of dining is top level on pricing  I think perfection would be also having a choice of well priced food. But whatever you try here know that it will be delicious. Even the pizza! Yes the pizza!  I think Como could give Naples a run for its money! The special dough used is raised for 72 hours before it lands in the oven. it is light and easy on digestion with a crunchiness and a softness to die for. Chef Massimiliano gave us a surprise menu inspired by the season and local products. He catered for ALL our needs, allergies and, intolerance's rearranging the menu accordingly.
The gourmet restaurant features the most romantic terrace on Lake Como – there, we enjoyed a fabulous dinner together with Ariane Tavakol of Discover Out Loud.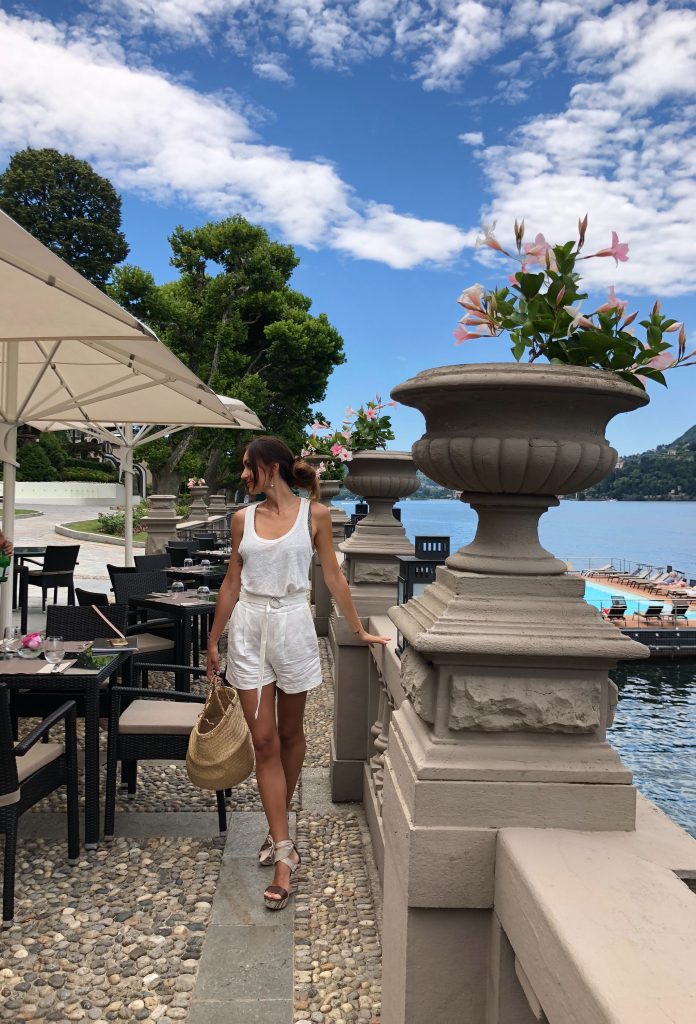 The SPA: 9/10
Ok, we didn't use the SPA that much to be honest as the weather was great so we spent most of our time at the pool. 
We were treated to a fantastic massage and used the indoor pool area. Sleek and elegant, the spa features modern decor  (aqua mosaic, designer beds, LED lights) contrasting with some traditional details like the wooden boat at the entrance (a Lucia , typical of the Como area, together with the famous Riva yachts).
Service: 10/10
Of course, when Geri and I go somewhere beautiful, we take pictures for our Instagram.
As soon as we started shooting in Mandarin Oriental Lake Como we got thirsty, and Geri had the idea of ordering a melon. Especially because it also looks good on pictures…
We called room service, went to the garden and kept shooting. A waiter arrived with a massive slice of melon. He headed to the room and Geri called him (a bit loudly, actually) to show that we were out. The waiter pretended it was normal to be loud, and eat in the garden while surrounded by bags of clothes, make up and shoes lying everywhere, even on the Roman-style statue. He didn't blink, prepared a tray, and set us an immaculate, impromptu picnic complete with silver cutlery.
There were more episodes that challenged the staff during our stay – we asked more storage, more hours in the room, and  more of almost everything – but everybody always reacted quickly and with a warm smile.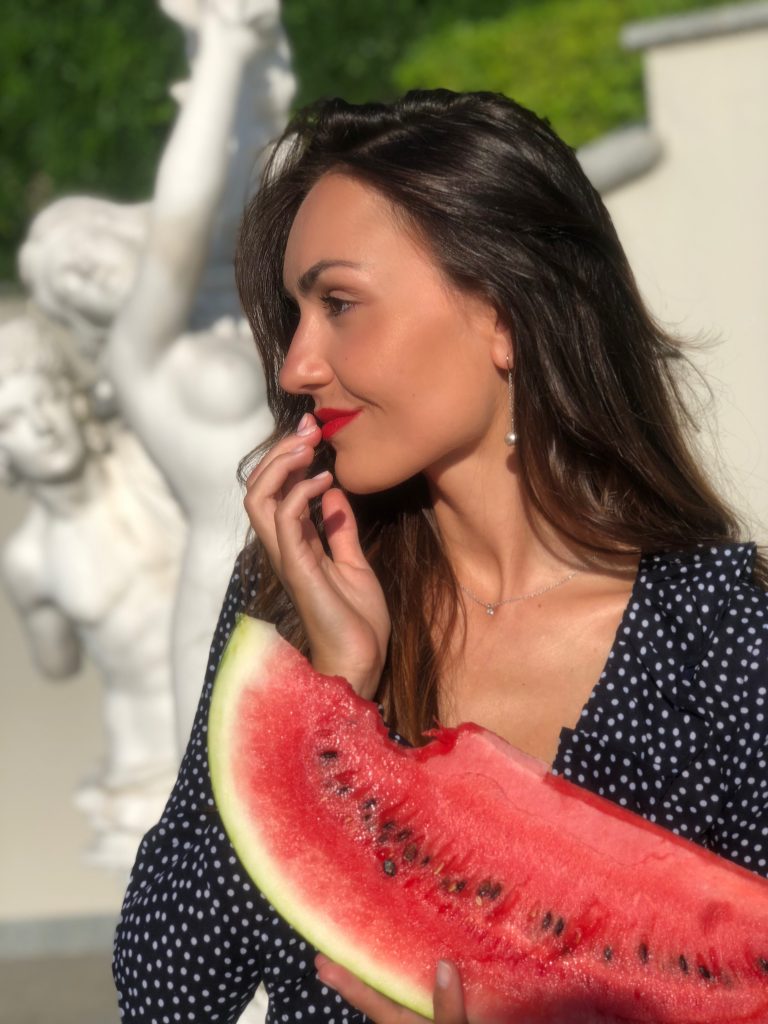 Value For Money: 8/10
Coming from Switzerland, Mandarin Oriental Lake Como  is at the top end of the budget.  One thing for sure is that pictures cannot describe the place well enough, and I am convinced that, if you go there, you'll be surprised at how stunning it is.
Overall, an outstanding property for people with a big budget, and an eye for good taste and exclusivity. Want to meet A list stars then the Mandarin Oriental Lake Como   is the place to stay!